Samsung Galaxy S III getting Jelly Bean around end-Q3, Galaxy S II, Note and Note 2 updates coming soon after
44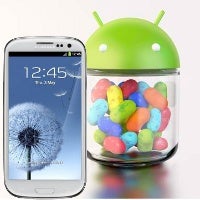 The
Samsung Galaxy S III
is clearly Samsung's biggest hit at the moment - the device is selling by the millions and so far we've heard the 10 million figure tossed around. No wonder it will be the first Samsung device to get updated to Android 4.1 Jelly Bean (not counting the Galaxy Nexus, that is).
Website Sam Mobile has now used its inside sources to share the rumors that the Jelly Bean firmware for the Galaxy S III has passed the testing stage and engineers are working on the public release of the update. So far, expectations are that the
Samsung Galaxy S III will get Jelly Bean around the end of the third quarter
to the beginning of Q4 2012. Nothing is official, just rumors, though.
Other phones to get bumped up to Android 4.1 soon are the Samsung Galaxy S II which still has solid sales and the Galaxy Note, as well as the upcoming second-generation Note.
Big news here is that this once again reiterates whispers about the
Samsung Galax Note II launching only with Ice Cream Sandwich
on board and not the latest Jelly Bean.
For the
Galaxy Note and Note II the Jelly Bean update seem very probable
, while for the Galaxy S II testing is still underway. So far, there's no reason not to update it, but if Samsung engineers happen to find one, at least a value pack update is certain. The three phones are said to get Jelly Bean in Q4 2012.
source:
Sam Mobile