Samsung Galaxy S III becomes Phones 4U's best selling 2012 smartphone in mere 24 hours
57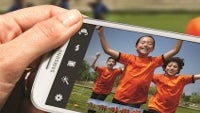 The
Samsung Galaxy S III
is not only the most anticipated Android smartphone of the year - it already hit 9 million pre-orders with carriers, and now in a mere 24 hours after its launch it has become the best selling phone at UK retailer Phones 4U.
This probably won't surprise anyone - the Galaxy S III has generated as much hype as the iPhone recently, and that's just one more confirmation of the bright future ahead for the 4.8-inch quad-core smartphone.
Phones 4U says that the SGS III has been selling phenomenally at the retailer, and one thing that probably also helped is the Just Update My Phone (JUMP) program it offers that allows customers to get a new phone every six months:
"A high proportion of the sales made were via JUMP, with new customers starting up contracts and pre-existing JUMP customers also coming in store to take advantage of the flexible upgrade and get their hands on the Galaxy S3,"
Scott Hooton, Commercial Officer at Phones 4U, said.
Are you picking up the Galaxy S III?