Samsung Galaxy S 4 cases announced by OtterBox and Belkin
6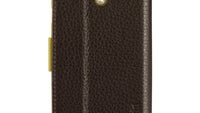 Smartphone accessory makers are probably rubbing their hands right now. Why? Well, it's because of the
Samsung Galaxy S 4
, of course! Chances are that the smartphone will be among the hottest of the year and will sell by the truckloads, meaning that plenty of people who buy one will need a protective case for it as well.
Two of the companies that will soon be offering protection for the Samsung Galaxy S 4 are Belkin and OtterBox. In fact, the former has already announced 11 upcoming cases made for the new smartphone and has revealed the looks of three of them.
The Belkin Wallet Folio is by far the most expensive of them, priced at $50, but it's also the fanciest, made of genuine leather and sporting credit card pockets on the inside. It also comes with a cover that turns into a stand. For $40 one will be able to get the Santorial Wristlet Case with a removable wrist strap, chrome-like accents and inner pockets. At $30, the Mica Glam Matter will be even more affordable, made of hard polycarbonate and sporting a metallic finish.
OtterBox, on the other hand, has not yet released images of its upcoming Samsung Galaxy S 4 cases. What the company has confirmed, however, is that it will be offering three kinds of protective cases for the said smartphone, each offering a different level of protection. These will be marketed as parts of the Defender, Commuter, and Reflex series. Pricing has not been disclosed.