Samsung Galaxy Note 7 to lose all charging capabilities in the U.S. on December 15th?
40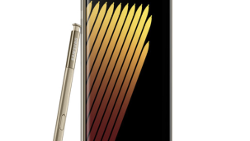 Those of you in the U.S. who are still holding on to your
Samsung Galaxy Note 7
hoping for a miracle, your days could be numbered. A report published today says that Samsung is planning on preventing the device's battery from charging at all in the U.S. starting on December 15th. A previous U.S. software update cut off charging to 60%. In other countries, December 15th represents the day that the Galaxy Note 7 will be permanently cut off from cellular connectivity. Those countries include Canada, Australia and New Zealand; official announcements have been made by the appropriate carriers.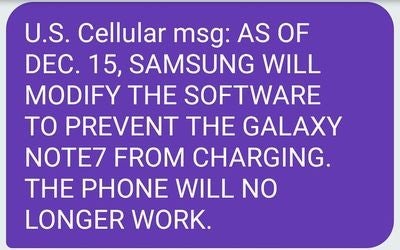 U.S. Cellular subscriber claims to have had this pop up on his Galaxy Note 7 screen
The story about the December 15th deadline to cut off the phablet's charging capabilities in the states began when a U.S. Cellular customer claimed that he received the following message on his Galaxy Note 7: "As of December 15th, Samsung will modify the software to prevent the Galaxy Note 7 from charging. The phone will no longer work." U.S. Cellular and Samsung have not responded, and at this point we don't know how authentic this message is.
Meanwhile, Samsung says that 85% of Galaxy Note 7 units that were sold in the U.S. have been turned in and exchanged for another phone. If the charging capabilities are drying up all together on December 15th, you can expect that percentage to rise higher toward 100%
source:
TheVerge