Samsung Galaxy Note 10 official cases review
1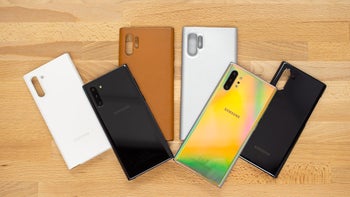 $279 – that's how much it costs to have the screen of a Galaxy Note 10+ repaired by Samsung. It's not a small amount of money, is it? Thankfully, we have smartphone cases, and Samsung offers a great variety: from leather back cases to flip wallet cases with glowing LEDs! We reviewed five of the official Samsung cases for the Galaxy Note 10 and Note 10+, and here are the impressions that we gathered for each of them.
Thanks to MobileFun for providing these official Galaxy Note 10 cases for review!
Samsung Galaxy Note 10 Leather Back Cover
This is a cover made of genuine leather and it comes in six different colors: black, blue, red, silver, white, and tan. It protects the Note 10 with style, without adding too much bulk to an already large device. Buttons remain clicky and easy to feel. The charging port – easily accessible. The inside of the case is lined with soft suede. While this case provides only moderate protection, it is light in weight and provides good grip. The corner area around the screen is raised to prevent it from scratching when resting face-down on a table.
The biggest drawback of this case is that it wears out quickly – especially around the corners which rub against the inside of pockets. The tan case pictured here has been in use for just about a month – although other colors might hold up better. Indeed, some people are fans of the way natural leather ages, but I'm not one of them. I must also mention that the S Pen becomes a bit more difficult to access with this case on, but it's not a big deal.
Samsung Galaxy Note 10 Rugged Protective Cover
This appears to be the toughest case on the list. The back is mostly plastic and the sides are made of rubbery material. It doesn't provide as much grip as I expected it to, but that's probably okay. I've used grippier Samsung cases in the past, and these were too difficult to take out without pulling my pocket inside out. The case as a whole is moderately thick but it isn't heavy.
A stand-out feature for this case is the pair of spring-loaded kickstands at the back, providing two different viewing angles. I find them convenient as they let me prop up the Note 10 on a flat surface – to watch a video while cooking, for example. They also come in handy for taking photos from a distance with the S Pen.
Unfortunately, this case has drawbacks other than not being very pretty. One is that it may interfere with the Wireless PowerShare feature. We were able to charge a Note 10+ from a Note 10 with the case on, but we had no success with a Galaxy S3 Frontier or a pair of Galaxy Buds. The Note 10 itself can charge wirelessly with the case on. Additionally, the protective lips on the top and bottom of the case make it harder to pull down the notifications panel and use gestures for navigation. It is also worrying to see several people on Samsung's online store reporting that the paint from the kickstand chips off easily.
Samsung Galaxy Note 10 S-View Flip Cover
This case has a transparent plastic stripe on the side, letting the display shine from underneath to show status information: the time and date, as well as icons for pending notifications. However, the content of notifications isn't shown until you lift the cover. When there's music playing, a bar with music control appears – something I tested with both Spotify and Google Play Music. You can pick up calls and snooze alarms as well. Touch sensitivity through the plastic stripe hasn't been an issue, in my experience, but under strong sunlight, it gets difficult to see what's shown there.
The biggest advantage of this case is that it protects the display of your Galaxy Note 10. Also, the material it is made of is nice and has good grip. On the flipside, this case is annoyingly impractical. It makes every-day activities, such as taking photos, texting, or even using the volume buttons, frustratingly difficult. And the fact that it doesn't stay shut makes me wonder how well it would protect a Note 10 if it gets dropped.
Samsung Galaxy Note 10 LED Back Cover Case
Behold, a smartphone case that has its own user manual! In all seriousness, this case is probably the most peculiar among the bunch. It has white LEDs under the surface, allowing it to alert you when someone's calling or you get a message (works with both normal texts and messaging apps like FB Messenger and WhatsApp). The case also produces a starry light show when you turn off your phone and place it face-down on a table. The led effects do look cool, and the visual alerts do seem nice having. Furthermore, you may replace the starry effect with an LED icon. However, when you have a call, you can't see who's calling. All you get is an animation of a ringing phone.
One downside to this case is that its glossy surface collects fingerprints easily. It isn't quite as grippy as Samsung's leather case, for instance, and it does make the S Pen a tad more difficult to eject. The LEDs are powered by the phone itself so they do consume some of its battery power, though I think the effect on battery life should be negligible. The Note 10 can be charged wirelessly with this case on. Wireless PowerShare works as well.


Galaxy Note 10 LED Wallet Cover Case
As its name implies, this flippy case comes with a slot on the inside. It is designed to fit only one ID or credit card, though I'm sure a small bus/metro ticket made of thin paper would stack on top of it just fine.
Another superpower this case has is the LED panel on the front cover. When you press the power button on the side, it displays the time and a counter for unread texts, though I couldn't make it show my missed FB Messenger messages. During incoming calls, the number of the caller is shown scrolling on the LED panel, but I couldn't make it show their name, even though it was saved on the phone. You can pick up or decline the call with a swipe over the LEDs. Additionally, you can set a custom LED icon for specific contact – a heart may appear if your significant other is calling, for example. You can also design your own, custom LED icons.
Unfortunately, the accessory comes with all the downsides of a flip cover case. While it does protect the screen well, the flip cover doesn't stay closed all the time and makes the phone more difficult to use overall. But the surface of the material does feel nice to the touch. Wireless charging and Wireless PowerShare work through the case.