Samsung Galaxy J7 (2018) lands at T-Mobile and AT&T
3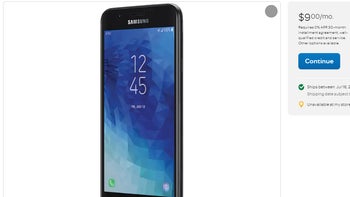 Samsung Galaxy J7 (2018) is already available in the United States via
Sprint, Boost Mobile
, and Verizon, but the phone is expected to arrive at the other two major carriers in the country as well. So, if you've been holding off on purchasing one due to having a different favorite carrier, here is your chance to spend a not so high amount of money for the mid-range smartphone.
AT&T and T-Mobile have just listed the Samsung Galaxy J7 (2018) on their online stores with different prices. If you want to go with AT&T, you'll have to come up with either $270 upfront or $9/month, while T-Mobile fans will be able to get the smartphone for $250 or $10/month.
Both versions of the phone come with almost the same specs, but T-Mobile sells it as Samsung Galaxy J7 Star and
mentioned in our previous report
. They also come in different colors – Black (AT&T) and Blue (T-Mobile).
For those interested, here is a quick rundown of Galaxy J7's specs: 5.5-inch AMOLED display, 13-megapixel rear camera, 13-megapixel selfie camera, 16GB (AT&T) or 32GB (T-Mobile) internal memory, 2GB RAM, 1.6GHz octa-core Exynos 7870 processor, and 3,300 mAh battery. Also, both versions of the Samsung Galaxy J7 (2018) ship with Android 8.0 Oreo on board.