Samsung Galaxy J7 for AT&T (2018) Review
5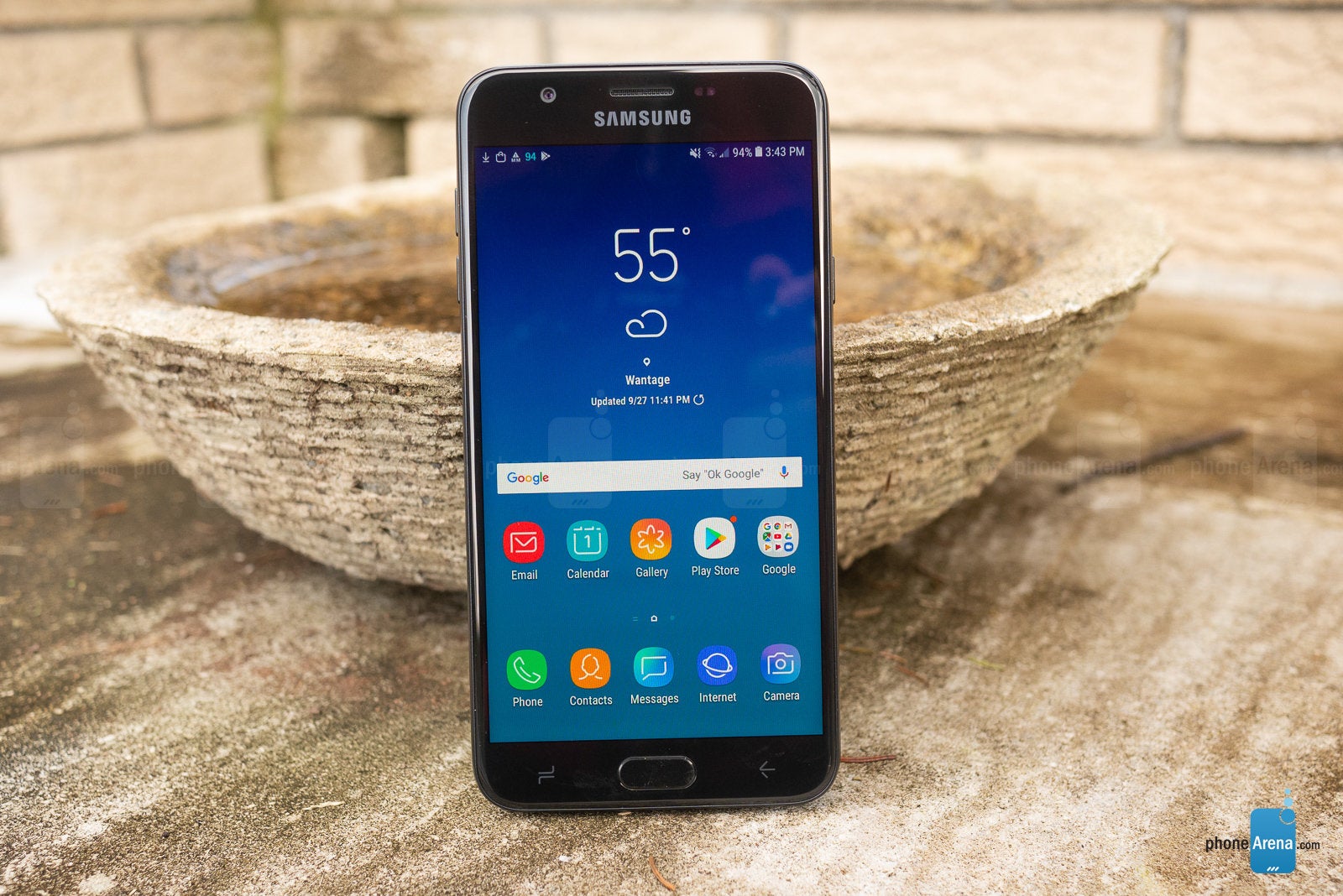 Samsung's Galaxy J7
has made its return for 2018. As is typical, variants for a range of GSM and CDMA carriers exist, so this mid-ranger can be had for as little as $230 as a prepaid device on Boost Mobile, with an additional $50 account credit for new customers. Carriers like Sprint, T-Mobile, Verizon and AT&T tend to stick around the $280 price point, though.
As you may already know, the $200 - $300 price point is packed with a variety of competitors with wide-ranging appeals and drawbacks. Last year's Galaxy J7 didn't exactly "wow" us with its lackluster camera performance, dated looks, and bare-minimum specs. So, what's Samsung done differently to curry our favor this year? Anything?
Samsung Galaxy J7 (2018)
Micro-USB Charging Cable
Wall adapter
Design
Not off to a great start.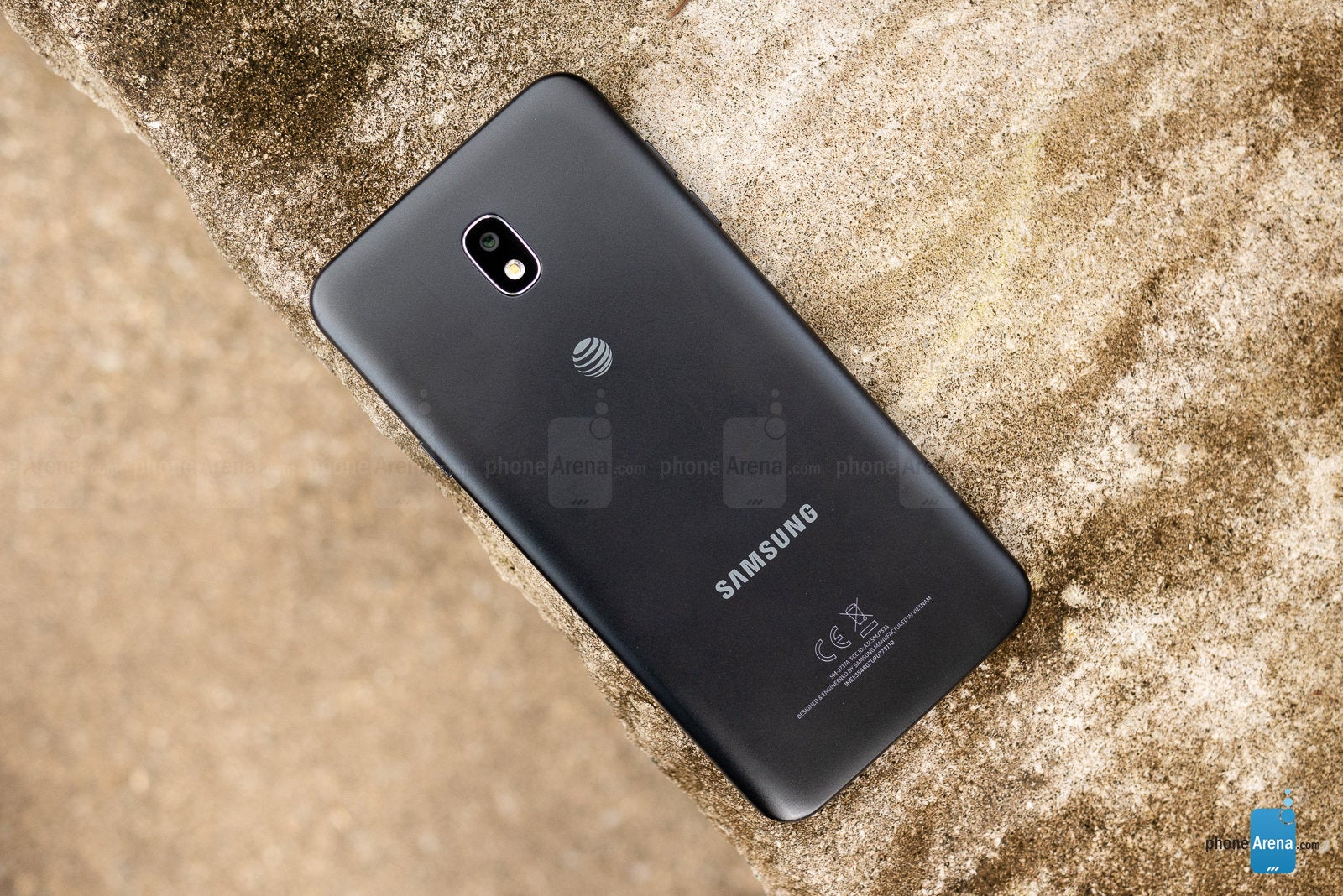 The Samsung Galaxy J7 isn't the most eye-catching device. Its large bezels and thick plastic construction give it away immediately as a lower-tier smartphone. The black plastic on the face, while abundant, is at least shiny, which helps give it a glass-like look. Below the screen you have your multitasking and back softkeys – which unfortunately aren't backlit and being placed in swapped positions compared to non-Samsung smartphones, lead to a few errant presses on the wrong button. The mechanical home button in the middle, which still lacks a fingerprint sensor, has a loud and deep click to it, while the volume and power buttons on the sides also click loudly but thankfully have slightly less travel.
Display
720p resolution stretches pixels wide, but it's more than usable.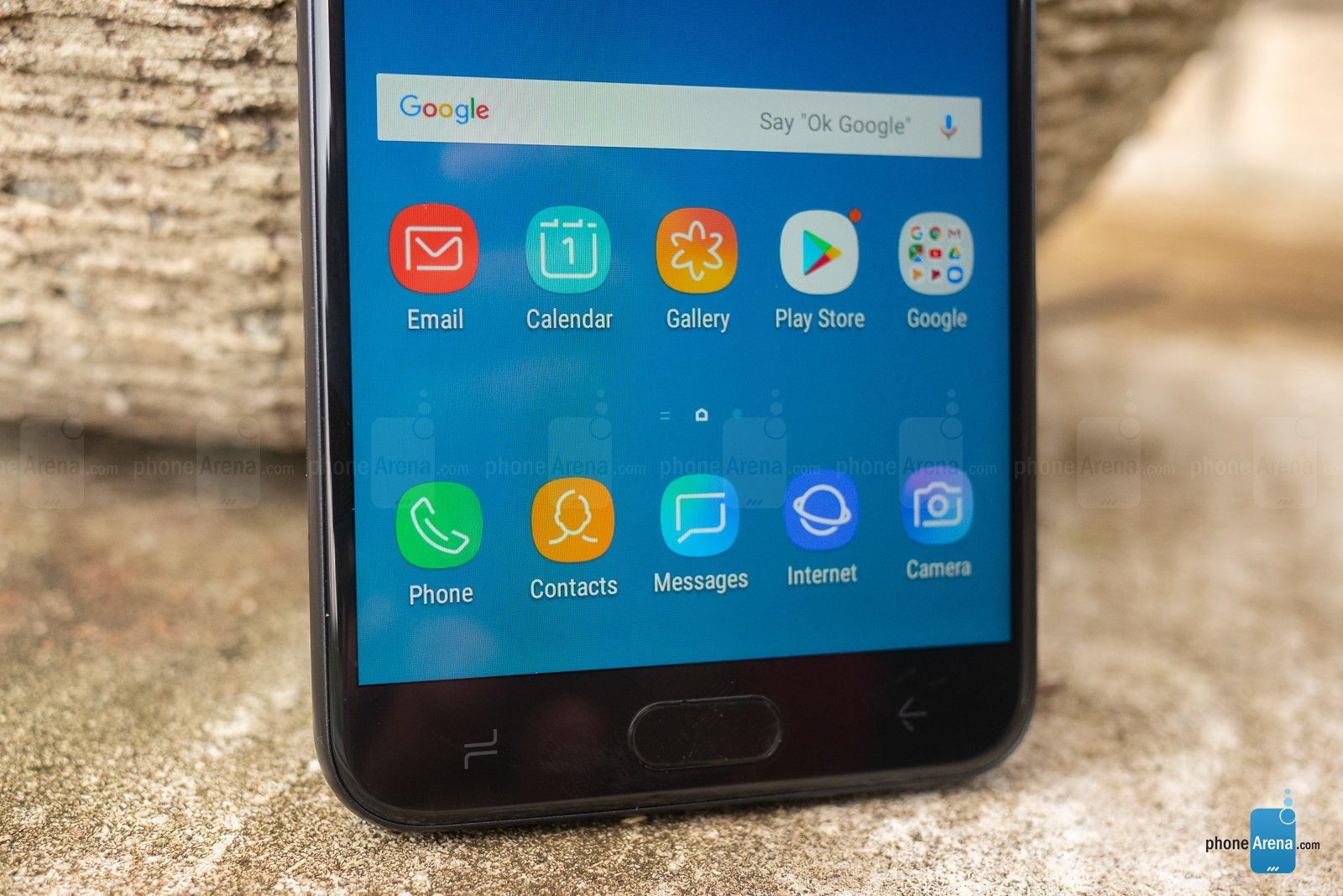 Rocking a 5.5-inch LCD HD (1280 x 720 px) display, the 2018 Galaxy J7 doesn't improve at all upon the 2017 J7's display, utilizing the same exact screen technology and specs. Fortunately, this screen does a decent job with detail despite its low resolution. Colors are bright and vibrant too but are affected by a bluish tint, which is easier to see in some colors more than others, but overall isn't too noticeable in every-day use. Minimum and maximum brightness measures of 5 and 580 nits, respectively, ensure that the Galaxy J7 will be easy to read and quick to properly adapt in any lighting scenario, thanks in part to the addition of an ambient light sensor – a feature that was missing on its predecessor.
Display measurements and quality
Interface and Functionality
We're still enjoying the Samsung Experience and Bixby Home is a nice Google Feed replacement.
The 2018 Galaxy J7 comes loaded with Android Oreo 8.0 underneath the Samsung Experience. How is the experience these days, you ask? Pretty good. As we've seen in more recent iterations, the UX has been refined to its highest point of usefulness and efficiency.
We love little touches like the scroll-to-top shortcut, and the thorough settings search functionalities as well as more talked about features like the Knox-powered Secure Folder and Bixby Home. The Secure Folder's usefulness doesn't begin and end with files, but also allows users to create duplicate apps within so that the apps and information within can only be accessed by those with the proper authentication to enter the secure folder – a pretty neat solution for security.
Bixby Home is the newsfeed-styled page you'll find when you scroll to the left-most page from the homescreen. Much like Google's own feed, Bixby Home will offer you suggestions to nearby restaurants, current weather, musical recommendations, sports scores, your schedule, emails and more – all of which is easy to read and interact with as well as being mostly customizable. The feed could use a bit more news, but some may prefer a less news-focused alternative. We wouldn't necessarily say it's better than the stock feed Google offers, but it does prove to be a competent replacement.
Processor, Memory, and Performance
16 GB on-board storage is paltry, and performance can seem a step behind.
Equipped with the mid-range Exynos 7870 SoC, 2 gigs of RAM, and a meager 16 GB storage (thankfully expandable via MicroSD), the Galaxy J7 2018 isn't going to blow any benchmarks out of the water. It does however provide a mostly smooth and decently prompt interface through which you can accomplish your day-to-day tasks. There's a noticeable pause when initiating multitasking via the dedicated softkey or sometimes when launching apps, and intense gaming will be a stuttery, frame-dropping affair, but all in all, you'll have a reasonably capable daily driver in the 2018 Galaxy J7.
Connectivity
Samsung's doing the least in this category.
In terms of your connectivity options, the J7 is rather limited. Single-band Wi-Fi and Bluetooth 4.2 meet the bare minimum requirements here; you won't stumble upon any extra goodies like NFC, or even a cool trick like fast charging here. As you might've already guessed, USB-C is not included in this upper-entry-level device.
Camera
Decent color accuracy, inconsistent detail capture.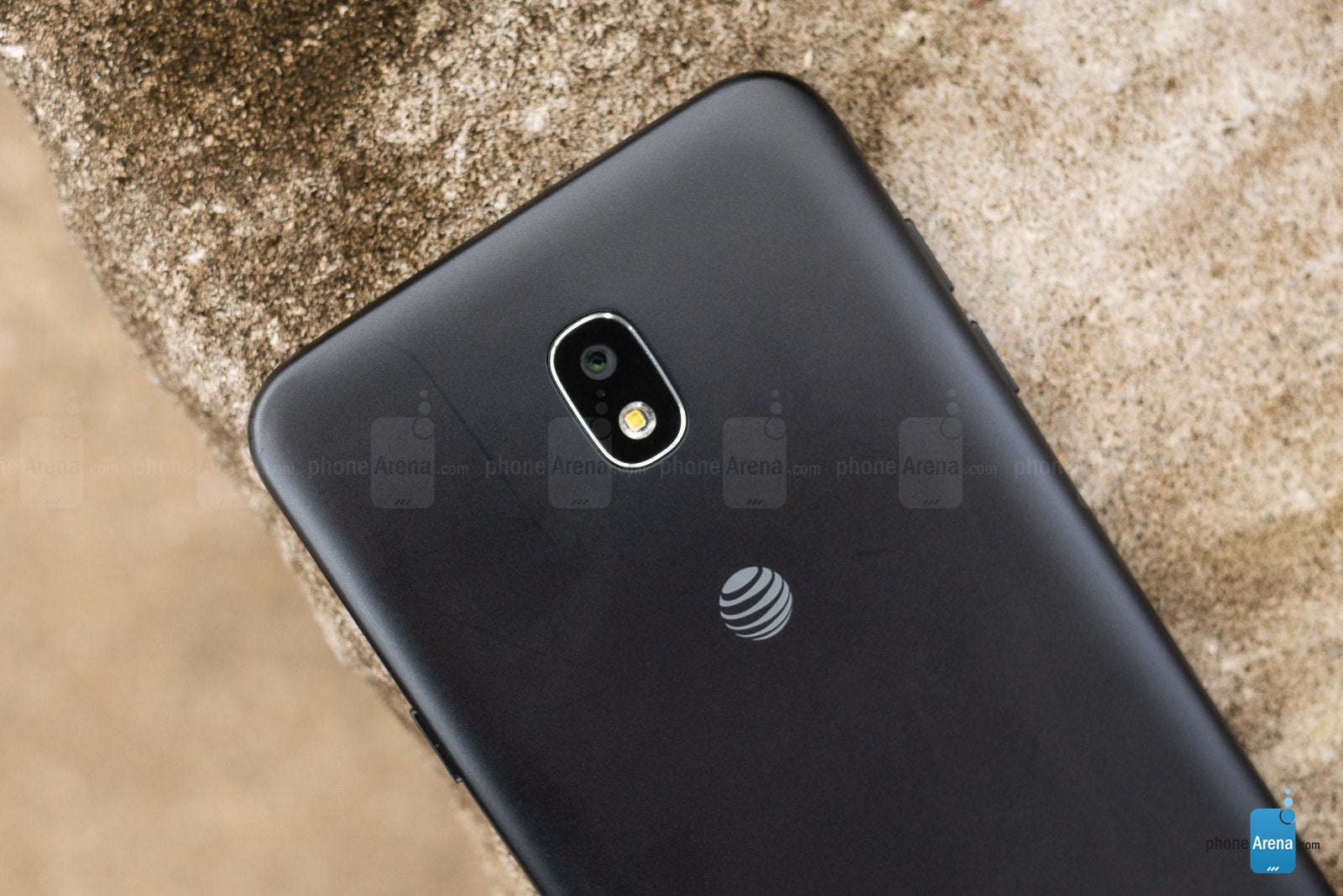 The J7 has a single 13 MP sensor in the front and the same one in the back for shooting selfies and photos, respectively. No phase detection auto-focus or fancy stuff will be found here, but rather a single LED flash. While these hardware components are steps up from the 8 MP rear sensor and 5 MP selfie cam of the 2017 J7, the software on the 2018 model takes a step down removing HDR, pro mode, and any other camera modes besides auto. So how does this bode for performance?
Well, image quality on the Galaxy J7 is a bit of a mixed bag. Many times, we ended up with blurry photos, even in well-lit scenarios, while overexposure proved to be a consistent issue. When photos came out well, though, details were quite clearly represented, and in general color accuracy was typically within an acceptable range.
Consistent with its maladies in exposure, dynamic sceneries often came out riddled with hotspots, obscuring details and sometimes even entire objects in the background. Images captured in lower-light scenarios not only displayed a noticeable blue tint, but also a pretty tough time with focusing and capturing detail.
Selfies show similar characteristics – some issues with overexposure with generally good detail and color capture – but with less occurrence of blurriness than the main sensor.
Video
Pretty steady for lacking image stabilization.
Video capture tops out at 1080p on the Galaxy J7 but color accuracy and detail capture are pretty adept. Even without image stabilization, shutter roll isn't a huge issue, though there is some jiggle to the imagery when moving the camera around – nothing too jarring, though.
Call Quality
All good, but the speakerphone is tinny and oddly placed.
Calls sound pretty good on the Galaxy J7 for both the caller and receiver. The speakerphone is loud too but sounds a tad tinny. Its unusual placement – above the power button on the right side – also can have you accidentally covering it when gripping the phone in a variety of ways.
Battery Life
A top performer in at least one regard.
The 2018 Galaxy J7 uses its 3,300 mAh battery quite efficiently, as the 2017 model did. Clocking exactly 13 hours in our custom battery drain test, the 2018 J7 adds about a half hour over the 2017 model's results and easily lasts pretty deep into a second day of use before begging for the charger. When it does need to juice up it'll take some time, though – 2 hours and 18 minutes to be exact.
Conclusion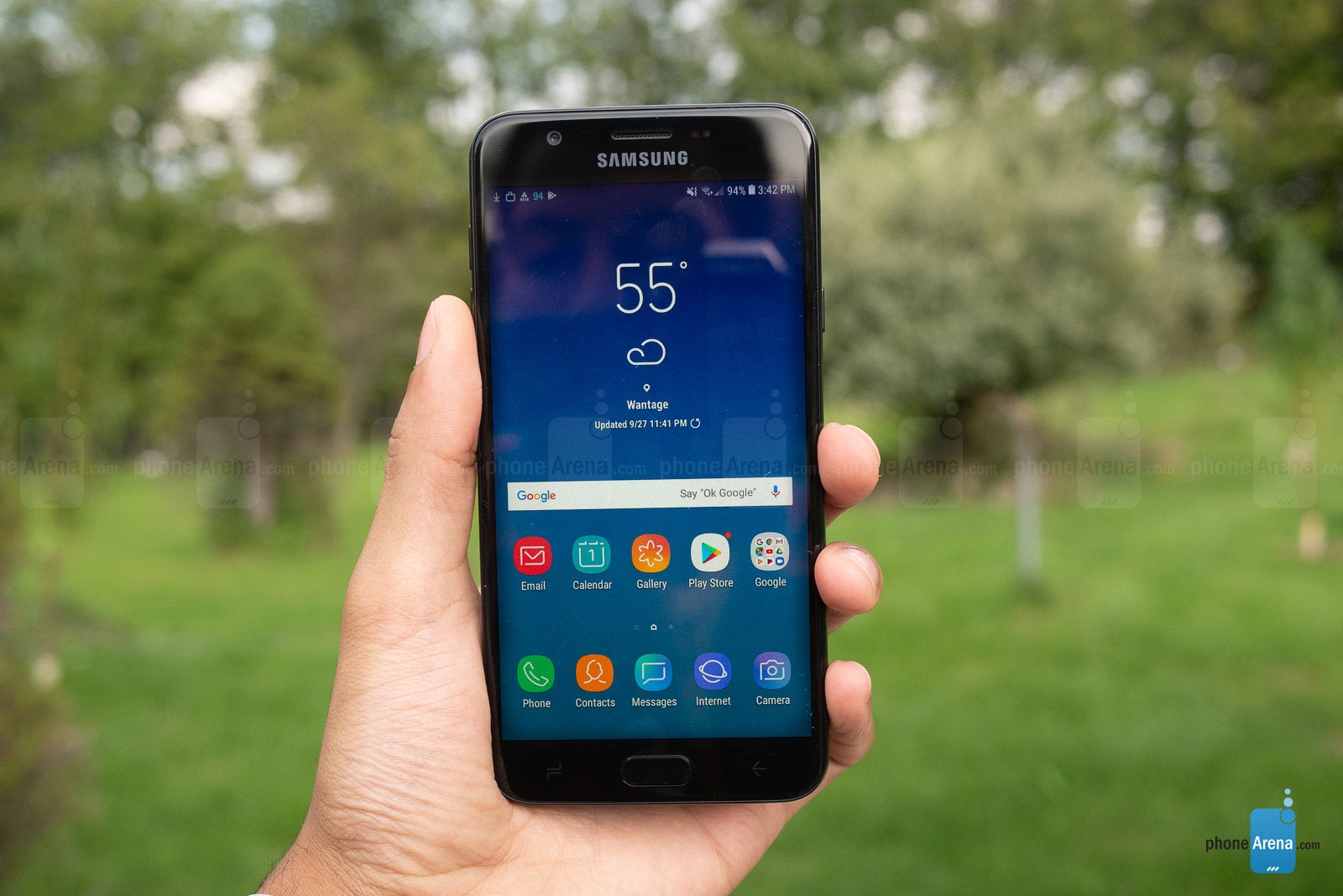 In the not-so distant past, a sub-$300 smartphone didn't have much to live up to. But that's far from the case now, and unfortunately Samsung's still living in the past with its J series phones. Doing the bare-minimum to just simply have a phone in this price range, Samsung seems to have at least attempted to inject some life into a phone that barely keeps its head above water by upping the camera specs.
Much to our dismay, though, that didn't quite pan out perfectly. While the J7 does have excellent battery life, a decent screen, and Samsung's unique Android Experience, it simply doesn't do anything better than most of its competitors, save for battery life. Not to mention there are a slew of Motorola phones (E, G, and X series) and even a Nokia or two which arguably look better, have more features, perform better in key areas, and cost the same or less than the 2018
Galaxy J7
.