Samsung Galaxy Camera goes on sale for $450
6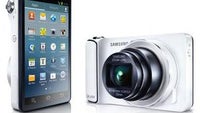 Most of the times when we tell you about a deal at
Daily Steals
, it's an offer that you have less than 24 hours to take advantage of. This time, however, the case is a bit different. The Samsung Galaxy Camera is is on the list of the web site's "Cyber Week Steals" and can be bought for $450 with free shipping. That is $50 less than what
AT&T is asking for this peculiar gadget
.
In case you need a refresher, the Samsung Galaxy Camera is a point-and-shoot snapper powered by the Android operating system. In other words, you can download apps, surf the web, check your email, and share your photographic masterpieces with the world by posting them on your favorite social network. The camera has a 16MP BSI sensor with wide-angle lens and 21x optical zoom. Inside the device ticks a quad-core processor running at 1.4GHz, and on the back of the unit resides a 4.8-inch Super Clear LCD panel. 4G LTE connectivity is provided by AT&T.
So yeah, if you're feeling adventurous and have $450 to spend on a camera, you can check this one out. Who knows, perhaps the Samsung Galaxy Camera is the perfect holiday gift you just couldn't find on Black Friday. For more details, feel free to read our
Samsung Galaxy Camera hands-on
.