AT&T announces Samsung Galaxy Camera price and release date
18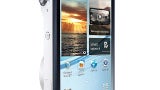 If you've been eying Samsung's Android-powered camera, the Galaxy Camera, you'd like to know that AT&T has just announced that beginning November 16, it will be selling the Galaxy Camera for $499.99. Customers will be able to pick one of the carrier's new shared data plans, or one of the available individual or family plans.
With the Galaxy Camera, Samsung is trying to reinvent the digital camera, adding features like the Android operating system, a large touchscreen and lots of other goodies. Users will be able to enjoy the full beauty of Android 4.1 Jelly Bean on a large, 4.8" Super Clear LCD touchscreen, powered by a quad-core 1.4 GHz processor. The camera itself is a 16MP one with a backside illuminated CMOS sensor, allowing for up to 21x optical zoom.
AT&T uses this occasion to remind us that with the purchase of a Samsung Galaxy device with a two-year contract, its customers will receive up to $100 off the price of a second Samsung Galaxy device purchase, including the Camera.
Alright, you geeky shutterbugs, if you want, you can find even more details in the press release below!
source:
AT&T
Samsung Galaxy Camera Available on AT&T's 4G Network Beginning Nov. 16
For a Limited Time, Buy any Samsung Galaxy Smartphone and Receive up to $100 off a Second Connected Samsung Device, including the new Samsung Galaxy Camera**

Dallas, Texas, November 12, 2012

AT&T* today announced the Samsung Galaxy Camera™, the 4G connected camera, will be available for customers beginning Nov. 16 for $499.99.*** For a limited time, AT&T customers will receive up to $100 off the purchase of a second Samsung Galaxy handset or other Samsung connected device, including the new Samsung Galaxy Camera, when they purchase any Samsung Galaxy smartphone (w/ two-year agreement incl. qualifying voice and data plans).

The Galaxy Camera combines high performance photography with Android™ 4.1 Jelly Bean and AT&T 4G mobile internet, resulting in a powerful point-and-shoot camera with a familiar, intuitive user interface and access to Android applications from the Google Play™ market.

The Galaxy Camera is a perfect fit for those who wish to shoot, edit and share brilliant photographs and video easily and quickly through social networks without connecting to a laptop or PC. The Galaxy Camera features a 4.8-inch HD Super Clear LCD™ screen, boasts a 21x optical zoom lens and a super-bright 16MP backside illuminated CMOS sensor for shooting high-quality images close up and in low light conditions. This device is powered by a quad-core 1.4 GHz processor for quick and responsive performance. Galaxy Camera includes powerful manual controls with its Expert Mode, which allows for manual setting of shutter speed, aperture, and ISO. Smart Mode gives amateurs the tools of the pros, with Rich Tone HDR mode, Light Trace for 'light painting' photos and features like Best Face and Best Photo, which help users pick the best shot.

"By connecting the Samsung Galaxy Camera through the AT&T wireless network, users can instantly share photos, giving family and friends a glimpse into their favorite holiday moments," said Chris Penrose, senior vice president, AT&T Emerging Devices. "Customers will receive $100 off the purchase of the new Samsung Galaxy Camera when they purchase any Samsung Galaxy smartphone, making the Samsung Galaxy Camera the perfect gift this holiday season."

In addition to being able to share to social networks and cloud services on-the-go, consumers can harness the speed and connectivity of AT&T's wireless network to share images and videos between Galaxy Camera and a range of Galaxy devices including the Samsung Galaxy S® III, Samsung Galaxy Note® II and Samsung Galaxy Tab® 2 10.1. ****

Customers purchasing Samsung Galaxy Camera from AT&T have more options in choosing the plan that's right for them and their mobile devices. With new AT&T Mobile Share plans, new and existing customers can share a single bucket of data across smartphones, tablets and other compatible devices. AT&T Mobile Share allows customers to build a plan to fit their devices and usage. Customers can select one of the new shared data plans or choose one of AT&T's existing individual or family plans. *****

The full range of data plan options include:

AT&T Mobile Share: $10 to share between 1 GB and 20GB
AT&T DataConnect 250MB: $15 for 250MB
AT&T DataConnect 3GB: $30 for 3GB
AT&T DataConnect 5GB: $50 for 5GB

The Galaxy Camera will have access AT&T Locker, a free and easy-to-use photo and video sharing service for AT&T customers. AT&T Locker users get 5 GB of storage for free – enough for 5,000 average sized photos. AT&T Locker provides users the ability to upload images and video to secure online storage and quickly share on Facebook, MySpace, Twitter or e-mail. Users can create and customize albums for photos and video on the device or online in the AT&T Locker website.

The Samsung Galaxy Camera will be available in select AT&T company-owned retail stores nationwide and online at www.wireless.att.com.

For more information on AT&T, please visit www.att.com.

*AT&T products and services are provided or offered by subsidiaries and affiliates of AT&T Inc. under the AT&T brand and not by AT&T Inc.

**Samsung Galaxy promotion requires two-year smartphone agreement including qualifying voice and data plan. Offer available for a limited time while promotional supplies last at participating AT&T locations. Offer valid on second Galaxy handset of equal or lesser value or any Samsung connected device.

***4G when used in connection with the Galaxy Camera refers to the fact that the device can operate on AT&T's 4G network.

****Samsung, Galaxy Camera, HD Super Clear LCD, Galaxy S, Galaxy Tab and Galaxy Note are trademarks of Samsung Electronics Co., Ltd. Other company names, product names and marks mentioned herein are the property of their respective owners and may be trademarks or registered trademarks.

*****Smartphone required. Up to ten devices per plan. Additional monthly charge per device. $15 per GB for add'l data. Unlimited talk and text for phones only. Activation fee may apply. Additional deposits and other restrictions may apply. Access to corporate email, intranet sites and apps available for $15/mo. per device.