Samsung Galaxy A2 Core goes on sale as the company's cheapest Android smartphone
0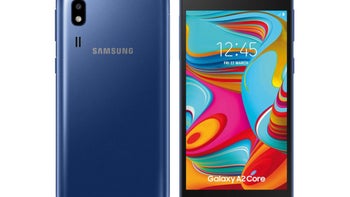 Although Samsung has decided to completely drop the Galaxy J series by
combining it with Galaxy A
, the South Korean company will continue to launch affordable smartphones. It's just that they will be launched as Android Go phones and probably in those markets where it makes sense to release these affordable smartphones.
The Galaxy A2 Core is not really news since details about the device leaked about a month ago, but it's surprising that Samsung was able to bring its price so low. The Galaxy A2 Core is the sequel of the
Galaxy J2 Core
, a cheap smartphone launched by Samsung last year, but with the Galaxy J series out of the picture, Samsung was forced to rename it.
Since this is an affordable phone, Samsung marked it as a low-profile launch, which is why you won't find in on any of the company's official websites. At the moment, you can buy the Galaxy A2 Core in India, but you'll have troubles finding one even there.
Android 9.0 Pie Go Edition is paired with totally unimpressive specs
The main selling point of the Galaxy A2 Core, besides its low price, is the fact that it comes with Android 9.0 Pie Go, which means that the software running on the phone has been specially optimized to work on a low-end device. Basically, this is a stripped-down version of Android that comprises of three fine-tuned aspects: OS, Google Play Store, and Google apps.
As such, the Galaxy Core A2 is totally unimpressive when it comes to specs. The phone is equipped with a low-end Exynos chipset made by Samsung, which accommodates eight cores. There are only 16GB storage and 1GB RAM inside the Galaxy Core A2, but users will be able to further expand the internal memory up to 256GB via microSD.
There's no notch nor dual-camera setups, everything related to the Galaxy A2 Core is basic. The 5.0-inch display features 540 x 960 pixels resolution, while the back side includes a 5-megapixel main shooter. Selfie lovers will be happy to know Samsung's entry-level smartphone comes with a 5-megapixel snapper in the front, which should be enough to take decent selfies.
Surprisingly, the Galaxy A2 Core features dual-SIM support and VoLTE. Also, the phone is powered by a 2,600 mAh battery and includes what appears to be a speaker on the back side, right below the camera and LED flash.
Price and availability
Samsung Galaxy A2 Core is
already available for purchase in India
for the equivalent of $75 (€70), but there's only one store that sells it or at least one that we know of. Even so, we can safely assume Samsung will expand its availability in the coming days, although it's not quite clear whether or not this will be launched in other countries anytime soon.
While we don't expect the Galaxy A2 Core to come to the United States in the foreseeable future, it's not quite impossible. Samsung launched a couple of Galaxy J series phones in the US in the past, so it might happen again at some point.
There aren't too many alternatives in the US as cheap as the Galaxy A2 Core. On the other hand, this smartphone has been specifically built for emerging markets like India, so if Samsung will eventually bring it to the US, it might hike its price a bit.