Samsung GALAXY Tab 10.1 with T-Mobile bands on board gets approved by the FCC
1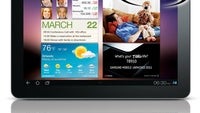 Currently, if you want to get a
Samsung GALAXY Tab 10.1
with connectivity features going beyond the scope of Wi-Fi, grabbing an LTE model from Verizon is your only option. However, there seems to be a chance of an alternative popping up on T-Mobile's shelves, if the device that we just came across ever sees the light of day.
A Samsung GALAXY Tab 10.1 model with support for T-Mobile's 4G bands
has been approved by the FCC, meaning that the nation's fourth largest carrier might have yet another 4G slate joining its lineup in the near future. Listed with its SGH-T859 model name, the tablet has the exact same dimensions as the Wi-Fi-only version of the GALAXY Tab 10.1 and can run on T-Mobile's 1700MHz AWS spectrum, which the carrier uses for its HSPA+ network.
Still, you have to bear in mind that getting the FCC's seal of approval does not make the release of the above tablet imminent. Besides that, T-Mobile has never mentioned any plans of offering the Samsung GALAXY Tab 10.1 in one form or another, so you might want to wait until an official announcement is made before getting your hopes up. Nevertheless, if you are already considering grabbing one should it ever hit the shelves, feel free to share your thoughts in the comments below.