Samsung GALAXY Tab 10.1 becomes part of the Cricket family starting tomorrow, December 16
2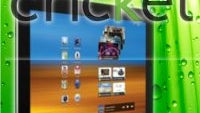 Starving to see more tablet action, prepaid wireless carrier
Cricket
announced stellar news that should appease a whole range of customers in taking the leap and moving into a quality tablet.
Unlike some of the versions we've seen with most of the postpaid carriers, Cricket Wireless is being blessed with none other than the typical 16GB Wi-Fi only version of the popular
Samsung GALAXY Tab 10.1
– as opposed to being some kind of cellular connected one. Still, it shouldn't detract anyone from thinking about picking it up, seeing it's priced competitively at
$500
with no contract signing at all.
Obviously, there's always going to be some sort of
promotion
to kick things off in the right direction, and rightfully so, that's what potential customers will be seeing when it launches this
Friday (December 16th)
in all channels. Specifically, Cricket will be offering a
$595 bundle deal
that includes the Samsung GALAXY Tab 10.1 with the carrier's own Crosswave mobile broadband hotspot – plus, one month of service.
In the end, it's nice to see that prepaid carriers are also willing to take the plunge and start bringing aboard tablets to their lineup – let's just hope that we continue to see this trend with other prepaid carriers as well.
source:
Cricket
via
Engadget
Press Releases
Cricket Enhances its Device Portfolio with the Launch of its First Tablet, the Samsung Galaxy Tab™ 10.1
~ Popular Wi-Fi Enabled Tablet Available for $499.99 or Bundled with a Cricket Crosswave mobile broadband device for $594.99
~ ~ Available Beginning Friday, December 16th at Cricket Company-Owned Stores
SAN DIEGO, Dec. 14, 2011 /PRNewswire/ -- Cricket Communications, Inc., a leading provider of innovative and value-driven wireless services and a wholly-owned subsidiary of Leap Wireless International, Inc. (NASDAQ: LEAP) today announced that the Wi-Fi enabled Samsung Galaxy Tab™ 10.1 will be available Friday, December 16, 2011 in Cricket company-owned stores. The slim and sleek Galaxy Tab 10.1 features Android™ 3.1 Honeycomb, 16GB of internal storage and will be available in Metallic Gray.
(Logo: http://photos.prnewswire.com/prnh/20111103/LA98784LOGO-c)
"We're excited to introduce tablets to our Cricket customers," said Matt Stoiber, senior vice president, devices for Cricket. "Our customers are finding new ways to incorporate devices into their active mobile lifestyle to stay connected, engaged and entertained and the Samsung Galaxy Tab 10.1 is a great device to help them do all those things."
The Samsung Galaxy Tab 10.1 with Android 3.1 Honeycomb brings access to more than 250,000 apps through the Android Market™ and offers full support for Google™ Mobile Services, including Gmail™, YouTube™ and more. Customers will relish the 10.1-inch enhanced display with a 1280x800 resolution HD screen, 1 GHz dual core application processor, a 2-megapixel front-facing camera and a 3-megapixel rear-facing camera. Both consumers and business customers will find a multitude of uses for the Galaxy Tab 10.1 that range from video chat to business tools, including those that allow for the opening and editing of documents, spreadsheets and presentations. The Galaxy Tab 10.1 features Adobe® Flash® Player to deliver an enhanced Internet browsing experience and access to content-rich Websites.
The Samsung Galaxy Tab 10.1 will be available from Cricket for $499.99 MSRP. Cricket is also offering the Galaxy Tab 10.1 as part of a special bundle which includes the Crosswave, Cricket's dual mode DO/Wi-Fi device and a first month of Cricket broadband service, all for $594.99 The Cricket Crosswave creates an instant mobile hotspot so customers can get internet access on the go and support multiple Wi-Fi devices. The Crosswave is available on Cricket's broadband plans that range from $45 to $65 per month per plan. The Cricket Crosswave and tethering-enabled Cricket Smartphones may be used to connect the Samsung Galaxy Tab to the internet over Cricket's 3G network.
For more information about Cricket's dynamic device lineup, please visit www.mycricket.com. To follow Cricket's latest news and updates online, go to Facebook at www.facebook.com/cricketwireless and Twitter athttp://www.twitter.com/cricketnation.
About Cricket
Cricket is the pioneer of simple and affordable unlimited wireless services with no long-term commitments or credit checks required serving approximately 5.8 million customers. Cricket products are available nationwide. Cricket offers wireless voice and broadband Internet services over the latest technology, high-quality, all-digital 3G CDMA2000 1X and 1xEV-DO wireless network. Cricket's nationwide wireless voice service plans include unlimited anytime minutes, unlimited U.S. long distance, unlimited text and picture messaging, unlimited text to Mexico, unlimited Mobile Web, unlimited directory assistance, as well as a variety of calling features and feature-rich mobile applications such as popular games, ringtones and wallpapers. For more information on Cricket, visit www.mycricket.com. Cricket is offered by Leap Wireless International, Inc., headquartered in San Diego, Calif. For more information on Leap, visit www.leapwireless.com.
Android is a trademark of Google, Inc.
Adobe and Flash are either registered trademarks or trademarks of Adobe Systems Incorporated in the United States and/or other countries.
Recommended Stories