Samsung Focus availability date and pricing is officially announced by Samsung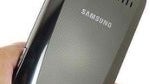 With less than four days until the big day when Microsoft's brand spanking new platform is launched in the US, Samsung has finally come out to officially announced the availability and pricing for the Samsung Focus.
Joining the HTC Surround and LG Quantum as AT&T's trio of Windows Phone 7 smartphones, the Focus definitely shines brightly due to its sharp and brilliant 4" Super AMOLED touchscreen. The high flying handset is slated to go on sale starting November 8th for the 2-year contract price of $199.99 – which makes it fitting with all the others set at that price point.
And to supplement its gorgeous display, it exudes a nice sleek looking design that'll undoubtedly give way to Microsoft's shiny new mobile platform. If you're banking on making the switch to Windows Phone 7, you just might want to keep your eyes focused on the Samsung Focus since it exhibits a well rounded appeal to it.
source:
Samsung
Recommended Stories