Samsung Canada has no plans for Blue Topaz or Green Emerald Galaxy S6, S6 edge launch
3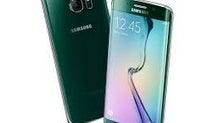 Samsung is known for offering several different versions of its flagship Galaxy S range after the initial launch, so when the Galaxy S6 and S6 edge hit the retail market last month, we knew there'd be more to come. Having already teased every geek's dream of an
Iron Man edition
Galaxy S6 edge, Sammy is now rolling out a 'Blue Topaz' Galaxy S6 and a 'Green Emerald' Galaxy S6 edge in select countries. If you're based in Canada, though, and were hoping that the device would be launched locally, Samsung Canada has confirmed that it won't be headed your way any time soon.
The folks at mobilesyrup have official word from an official Samsung Canada representative on the matter of these new color options, which were first demoed back at Mobile World Congress in March:
Currently, we do not have any specific information on Canadian availability to share about new GS6 colour variants. As always, we will keep you updated on any Samsung Canada related news as it becomes available.
Sure, this is disappointing news for Canadian Galaxy fans hoping to score themselves a Blue Topaz or Green Emerald handset. But the statement doesn't rule anything out for definite, so there's hope that, further down the line, Canada may see these vibrant color configurations on sale.

Still, if you don't feel like waiting -- the shelf-life of a smartphone is, after all, incredibly short -- then you could always purchase an import. This route will come at a premium cost, of course, but on the plus side, you'll be able to draw satisfaction from the fact that virtually nobody around you will own either of these coveted variants.