Samsung drops teaser image for Galaxy S6 edge Iron Man edition
21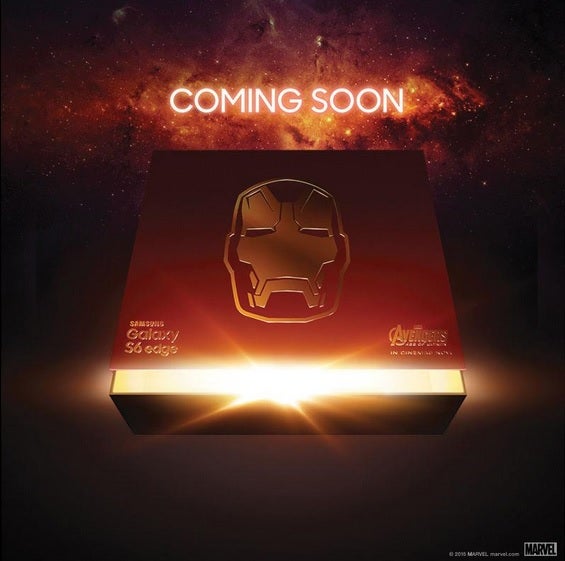 Recently, Samsung Mobile's marketing chief Lee Young-hee
confirmed
that an Iron Man edition of the company's flagship Galaxy S6 and S6 edge will be released in the near future. Today, the Tizen maker has rolled out a very enticing, albeit not-too-revealing teaser of the Galaxy S6 edge Iron Man edition's packaging. If you happen to be a fan of Iron Man as well as the handsets, you'll be pleased to know that the red and gold devices should be available to purchase within a month.
Speaking at a screening of
Avengers: Age of Ultron
in Seoul just over a week ago, Lee indicated that the special version of the two devices would hit the market by late May or early June. Today, the official Samsung Tomorrow Twitter feed has delivered the first of what will likely be a few teasers as it looks to generate hype, and while there's no glimpse of the device itself, the glowing box will still surely have Iron Man fans frothing at the mouth.
The above image is captioned
"coming soon,"
which ultimately doesn't tell us a lot, and also adds that
"detailed availability in markets may differ by region."
This infers that some Iron Man / Avengers fans are going to have it easier than others when trying to land this coveted, limited-edition gadget. But as the finer release details emerge, we'll have them covered at
PhoneArena
.
If the red and gold packaging is anything to go by, fans will be in for a real treat. Sure, the real thing probably won't glow or offer the magical unboxing experience that Samsung has illustrated, but for avid Iron Man fans, this is a release not to be missed.
Since we're still waiting for that first eyes-on of the Iron Man Galaxy S6, you'll find a set of fan-created images to whet your appetite below. While they're not official, they're still very easy on the eye, and we'd imagine that the first render -- the red device with the gold trim -- offers a fair representation of what we can expect from the eventual Iron Man Galaxy S6 edge.
Given the seemingly limited nature of the Iron Man variant, it doesn't appear likely that Samsung's cosy relationship with Marvel will spawn special edition handsets for The Incredible Hulk, Captain America, or any other Avengers heroes shown below. Still, a geek can dream,
right?
Recommended Stories