Russia's Samsung Star II Duos C6712 is coming in May with dual-SIM support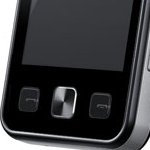 We've already seen how various wireless carriers have
re-branded the Samsung Star II
to fit their unique exquisiteness, but now it's time for Russia to be graced with their very own variant.
This time around though, the motherland of Russia will be graced with the
Samsung Star II Duos C6712
which is basically the Star II in every shape and form. However, what separates this one from everything else out there is that it'll offer
dual-SIM support
– so you can have two phone numbers associated with the phone. Moreover, it features a 3.2" WQVGA touchscreen,
3.2
-megapixel camera, 802.11 b/g/n Wi-Fi, 1,200 mAh battery, Bluetooth 3.0, and TouchWiz 3.0.
In terms of release, this one will be riding in some time in the May time frame with the modest price of
6,990 rubles
– which converts over to approximately
$250
; which isn't too bad for a dual-SIM handset.
via
Samsung Hub