Russians dismantle Steve Jobs memorial after Tim Cook's announcement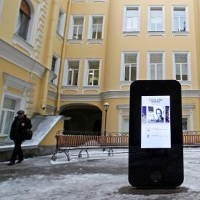 In the Russian city of St. Petersburg, a memorial dedicated to the late Steve Jobs was dismantled after the man who replaced him, Tim Cook, confirmed last week that he is gay. The memorial consisted of a statue of an iPhone that reached more than 6 feet tall. The same group of Russian companies that put together the memorial outside of a St. Petersburg college in January 2013,
ZEFS
, was also responsible for its dismantling. The group said that the monument was "
in an area of direct access for young students and scholars
".
ZEFS
cited a law against "gay propaganda" for its decision to remove the iPhone statue. The memorial was gone by Friday, a day after Apple's current CEO revealed his sexual orientation. The law cited by
ZEFS
was signed by President Vladimir Putin last year and was designed to prevent the spreading of "gay propaganda" to minors. There is no discrimination against gay people in the country, Putin said, stating that the law was designed just to protect children. Members of the gay community in Russia disagree, saying that their lives have been made more difficult following the passage of the new law.
While many in Silicon Valley had already known that Tim Cook is gay, the highly regarded Apple executive officially came out last week, hoping to advance the field of civil rights. His pronouncement led St. Petersburg legislator Vitaly Milonov to demand that Cook be banned from entering the country.
source:
Reuters
,
NBC