Rovio Accounts brings its game syncing to all Android and iOS devices (but not all games)
1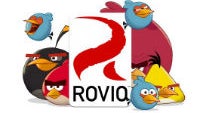 Way back in April of 2011, Rovio first
promised to bring cross-platform game syncing
to its stable of Angry Birds games. It wasn't until this May, over two years later, that Rovio even
started rolling out the feature
, which it called Rovio Accounts. But today, Rovio Accounts has made it worldwide and is available on all Android and iOS devices.
Of course, it's not all good news, because the game syncing feature is still only available in
The Croods
(which we're pretty sure no one plays), and the original
Angry Birds
, meaning it is only available in 2 of Rovio's 9 games. And, while Rovio Accounts is available for all Android and iOS users worldwide, there is still no support for Windows Phone users. Rovio has promised to expand the service to all of its games, but has not mentioned when WP support might arrive.
For those of you with an Android or iOS device who still plays OG
Angry Birds
, or
The Croods
, the feature will allow you to login with your account and your game progress will sync automatically across your devices. It will also allow multiple users to play on the same device without causing problems with each others' games.