Rovio finally slowly adding Angry Birds progress syncing
6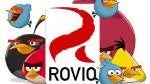 Remember when Rovio promised to add cloud backup and syncing of your
Angry Birds
saves to its games? Yeah, it was
over two years ago
when Rovio said that feature was "getting there", but the feature is finally starting what looks to be a very slow rollout of save syncing. When we say slow, we mean it, so even though the feature is coming, don't expect to see Rovio Accounts on your device all that soon.
The idea is simple enough: you sign up for a Rovio Account using only your e-mail address, then your game saves will sync across your devices. There is even a nice feature that will let multiple users sync their saves using the same account, which is great for shared devices. The problem is that right now the Rovio games that offer the feature are very few.
Rovio Accounts can only be found globally in
The Croods
, and in the original
Angry Birds
for users in Finland and Poland. Rovio has promised to roll out the feature to more areas in the future, but there's no way to tell when that could be happening.