Rogers confirms record-breaking BlackBerry Z10 launch
19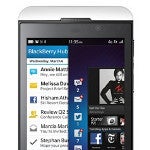 We've told you
how happy BlackBerry's CEO is
because of the record-breaking Canadian launch of the
BlackBerry Z10
, but as good as it is to know that the company is doing well once again, we couldn't help but notice the fact that the CEO's statement wasn't backed by any numbers.
Nevertheless, it appears that we've been told the truth, as the Canadian carrier Rogers has now issued a statement, which confirms what was previously said by CEO Thorsten Heins. According to Rogers, which was the first carrier to offer BlackBerry in 1999, the Z10's launch was indeed the most successful BlackBerry launch ever. In some stores, Rogers has even sold out of Z10 units, so new stock had to be ordered.
Once again, though, we don't get to see any official numbers, other than the mention that Rogers activated "thousands" of BlackBerry Z10 smartphones on launch day, which doesn't sound like such an extraordinary achievement.
You can learn more about the BlackBerry Z10 from our review
here
!
via:
BerryReview