Rogers CEO Nadir Mohamad to retire in 2014, no replacement yet
1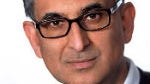 Nadir Mohamad has been the CEO of Canadian wireless carrier, Rogers since 2009, and during his tenure, the carrier has grown into the largest wireless carrier in Canada. But, Mr. Mohamad has decided to retire, and will step down as CEO as of January 2014. The Rogers Board of Directors has put together a committee to find a replacement, but no candidates have been named yet.
Mr. Mohamad has been working in communications for more than 30 years ago. He joined Rogers in August 2000, and was President and CEO of Rogers Wireless from 2001 to 2005, before being appointed President and COO of Rogers Communications Group in 2005. Mr. Mohamed then took over as President and Chief Executive Officer in March 2009, succeeding the late company founder Ted Rogers.
Alan Horn, Chairman of the Rogers Board, said of Mohamad:
Thanks to his disciplined and strategic management approach we've strengthened our core business, solidified our financial position and set Rogers up for long-term success. The board is grateful for his significant contributions and looks forward to working with him to ensure a seamless and orderly transition.
Late company founder Ted Rogers' son and daughter, Edward and Melinda, currently serve as Deputy Chairman and Senior VP of the company, respectively, but neither is expected to put their name forward for the CEO position.