Report: Microsoft could capture 18 percent of the global tablet market by 2019
40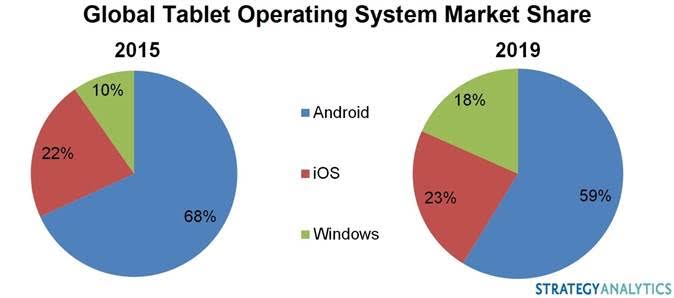 According to a recent report from market research firm Strategy Analytics, Microsoft will capture an 18% share of the tablet market by the end of the decade.
For a few good quarters in a row, reports from market research firms have shown that the the global tablet market is shrinking faced with the growing popularity of large-screen smartphones (many call them phablets). Despite this decline, however, there are signs that tablet makers have yet to give up the fight.
Ever since Microsoft launched Windows 8 a couple of years ago, the company's OS has made steady progress in the tablet market. Compared to Android tablets, which hold the lion's share of the tablet market at the moment, Windows tablets are much better at productivity work and appear to be favored by enterprises, which comes as no surprise given that modern Windows tablets are able to run desktop-class Windows apps.
Strategy Analytics claims that shipments of Windows-based tablets increased by a whopping 58% in the first nine months of 2015 compared to the same time period the year before. Furthermore, the research firm says that this momentum will carry Microsoft further during the upcoming holiday season. The researchers expect shipments of Windows-based tablets to add up to 22 million units by the end of the year, or 10% of all tablet sales during 2015.
Looking forward, the researchers believe that Windows tablets will continue to gain traction in the enterprise market. As companies open up towards the adoption of tablets, Microsoft finds itself in a key position to sell Windows-based slabs in the enterprise sector seeing that Windows remains the undisputable leader in terms of desktop and server operating systems.
By the end of 2019, Strategy Analytics predicts that Windows will hold an 18% share of the global tablet market. If this prediction turns out to be accurate, then Microsoft's gains in the tablet market will chip away at the firm grip that Google's Android holds over the tablet market as a whole.