Report: Apple iPhone 8 sensor will handle facial recognition while lying flat on a desk
39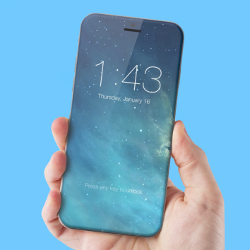 The bottom line seems pretty clear. Neither Apple nor Samsung will be first to the market place with a fingerprint scanner that will be embedded under the front display. In fact, at the moment,
that accomplishment will apparently be first credited to Sharp and its Aquos S2 device
. Samsung is relying on the use of its rear-facing fingerprint buttons for biometric control, and it seems that Apple will be hoping that its 3D scanning facial recognition system will be able to unlock phones and verify identity. The main question is whether the financial institutions partnering with Apple on Apple Pay will feel comfortable trusting a new system to keep identity theft down.
Last week, a major code break found in Apple's HomePad smart speaker revealed that
the facial recognition system nicknamed "Pearl" will be able to do its thing even while the new handset is lying flat on a table
. This means that an
iPhone 8
user won't have to pick the phone off of a table and aim the sensor at the user's eyes. Code spotted in the leak contains several references to the word "resting."
Earlier this year, KGI securities analyst
Ming-Chi Kuo called the front-facing camera on the Apple iPhone 8 "revolutionary,"
noting that the component would be employed for face recognition. That same month, it was disclosed that
Apple had purchased Israeli tech firm RealFace
. The latter's facial recognition system is said to be so sensitive that it can tell apart the faces belonging to identical twins.

Kuo, who has an admirable record predicting the new features expected to land on new iPhone models, has been all along calling for Apple to replace Touch ID with face recognition for the tenth anniversary premium iPhone. In addition to handling the facial recognition chores, the revolutionary front facing snapper will also be able to handle depth of field data in order to create the desired blur (or bokeh) look using a dedicated infrared transmitter and receiver.


source: iHelpBR (translated) via AppleInsider