Refreshed Amazon Kindle Fire HD now with a new, slimmer body and a $139 price tag
9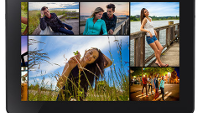 Earlier today in Seattle, behemoth e-tailer Amazon officially announced
the new line of Kindle tablets
. Out of the three new slates, the redesigned 7-inch Kindle Fire HD is arguably the least interesting from a tech enthusiast's point of view. This isn't to say, however, that it's any less enticing – the very opposite, seeing as Amazon has given it a nice refresh as to stay in line with the two new boys and and an attractive new price tag starting at $139, down $60 from the 2012 model.
So what changed about the Kindle Fire HD? Well, for starters the body has been overhauled completely – it's got a new industrial-looking design which has made it both thinner and lighter than before, not to mention that bezels have gone through a much needed trimming. The new slate also comes with a refreshed Fire OS 3.0, aka Mojito installed – Amazon's fork on Android – which comes preloaded with even more productivity apps and features. In case you're wondering, all Amazon tablets have their own separate Amazon app store, though apps written for Android work just fine.
But, wait! That's not all – hardware has also gotten a slight bump. Namely, the 1GHz dual-core OMAP chipset by Texas Instruments has been replaced with a faster 1.5GHz dual-core one, though the exact make hasn't been revealed. The rest of the specs are pretty much identical to last year's – a 7-inch display running a resolution of 1280x800, the same dual stereo speakers and 1GB of RAM. These are hardly a match for the still minty-fresh 2013 Nexus 7, though considering that the 2013 Kindle Fire HD costs almost a $100 less, it does feel like Amazon will continue to reign supreme in the budget category.
Amazon has already started taking preorders for the refreshed Kindle Fire HD and it's expected release date is October 2nd. The company is making two versions of the tablet available: the 8GB one will set you back $139, whilst the 16GB version will ask for slightly more at $169.