Snapchat users can now share Reddit posts within the iOS app
1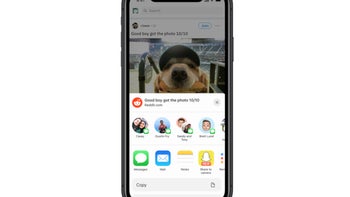 Reddit has just announced that starting October 14,
Snapchat users
will be able to share their favorite Reddit posts with friends directly within the iOS app. A new update to the Reddit app has added the option to share posts on Snapchat via the "share" icon.
On the other hand, Snapchat users will see unique Reddit content in their Snaps and Snap Stories thanks to a new sticker that's been specifically designed for the integration, which includes Reddit logo and source information.
With the Reddit mobile app installed, users can simply swipe up on the Snap to visit the origin post in the Reddit mobile app. However, those who do not have the Reddit app installed will be taken to the
App Store
to download Reddit on iOS upon swiping up on the Snap.
Initially, Snapchat integration will allow Reddit users to share text, link and image-based posts on iOS. Support for Android integration will arrive soon, Reddit confirmed in a
blog post
. It's also worth noting that shareable content is limited to posts from Safe for Work communities and those groups in good standing.