The ultimate Red Magic 3 gaming smartphone launched in the US for less than $500
8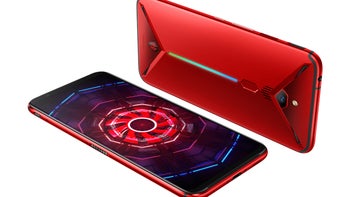 UPDATE
: The Red Magic 3 is now available for purchase in the United States for less than $500. Nubia, the company behind the gaming smartphone announced the 8GB/128GB model costs $480, while the 12GB/256GB variant can be had for $600. You'll be able to purchase the Red Magic 3 directly from Nubia's online store.
The
Red Magic 3
, one of the most powerful gaming smartphones available on the market, will finally make its global debut in just two weeks from now. The flagship device will be launched in the United States on May 27, or at least that's the date when sales open.
Besides USA and Canada, the Red Magic 3 will be launched on the same day in the following countries: Austria, Belgium, Bulgaria, Croatia, Cyprus, Czech Republic, Denmark, Estonia, Finland, France, Germany, Greece, Hungary, Italy, Latvia, Lithuania, Luxembourg, Malta, Netherlands, Poland, Portugal, Romania, Slovakia, Slovenia, Spain, Sweden + United Kingdom, Australia, Hong Kong, Israel, Japan, Singapore, Indonesia, Taiwan, and Macao.
Unfortunately, Nubia, the company behind the top-tier phone, didn't reveal any details about price, so we'll probably have to wait until the Red Magic 3 goes on sale. The good news is Nubia announced several contests and promotions will go live in the coming weeks to celebrate the upcoming launch of the Red Magic 3.
To learn about all the cool prizes and discounts on the Red Magic 3 that Nubia will offer starting this week, you'll have to visit the company's
Beat the Heat
campaign page.
As far the smartphone goes, the Red Magic 3 is very powerful device thanks to the
Qualcomm Snapdragon 855
processor packed inside, which is paired with no less than 12GB RAM and 256GB storage.
Also, the phone boasts a stunning 6.65-inch ultra-widescreen FHD+ HDR AMOLED display, built-in capacitive shoulder triggers with custom mapping for convenient gaming, front-facing stereo speaker and DTS:X technology, as well as industry-first active liquid-cooling with internal turbo fan.
To make sure that you won't run out of juice to quickly Nubia included a huge 5,000 mAh battery inside, which features up to 18W quick charge so that you can get back to playing your favorite games as fast as possible.