Reaction emoji being tested for Facebook Messenger
1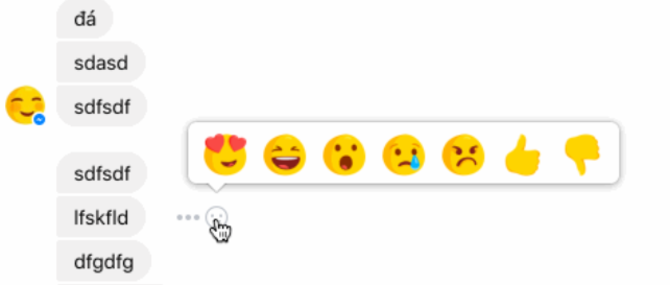 Facebook is testing reaction emoji for Facebook Messenger users
Facebook Messenger users could soon be able to post reaction emoji in response to individual messages. The feature, which is currently available for Facebook's News Feed, is in the process of being tested by random subscribers. The five reaction emoji include faces showing "Love" (with hearts replacing eyeballs) to "Hate" (with a frown). Three emoji in between relay happiness, surprise, and sadness. There also is a thumbs up and a thumbs down. The latter indicates that a message is disliked by the recipient.
The Dislike button is something new and is not offered as a response on the News Feed. It has reportedly been one of the most asked for additions to the messaging app. Facebook sees it more as a way to say "no" to a request, for example, rather than being representative of the stronger Dislike emotion. Since the feature is being tested, not every Messenger subscriber has access to the reaction emoji and the thumbs up/down responses. If the testing goes well, all users will eventually receive the feature.
"We're always testing ways to make Messenger more fun and engaging. This is a small test where we enable people to share an emoji that best represents their feelings on a message."-Facebook statement
So far, the
Reactions
available for the News Feed has generated 300 billion responses in just one year, with more than half of those accounted for by the Love emoji. The emoji appear when a Facebook user hovers over a news story.There is no word from Facebook as to when it will make a decision about disseminating this to everyone on Messenger.
source:
TechCrunch