RavPower promo: grab a gargantuan power bank and a multi-charger at a discount!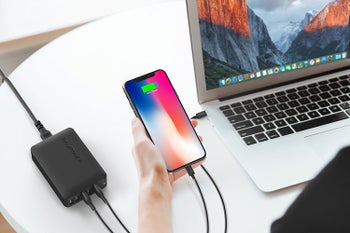 So in this day and age, everyone and their dog has got at least one mobile device, with some people sporting 2 or 3 on the regular. From tablets to smartphones, smartwatches, and Bluetooth
earbuds
, we certainly have a lot of things to charge on a daily basis... and a ton that we forget to charge.
Not having enough ports to simply plug all of your devices in is often a real scenario. Running out of battery mid-way through a very busy day is a nightmare.
So, RavPower has prepared a deal on two of its most useful charging accessories to keep you juiced up. One is a 5-port charging station, which can power up anything from a smartwatch to a laptop, the other is a generous 26,800 mAh powerbank.
Starting today, the 30th of August, the power bank gets a price cut of $28 ($30, if you enter code ARENA058 at checkout) and you've got 5 days before it goes back up to $53.99. The 5-port charging station is discounted by $9.60, possibly just for 1 day.