RadioShack will start selling the T-Mobile G2 starting on October 3rd?
3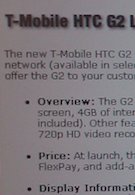 Jumping the gun quite a bit already as RadioShack is poised to sell the
T-Mobile G2 for the attractive price of $149.99,
the retailer is yet again going to trump others by moving up its release date. When just about everyone else will given the green lights to start selling the G2 on October 6th, RadioShack will be getting theirs three days earlier on October 6th.
From what appears to look like a leaked internal memo, the T-Mobile G2 will be ready to go live for the retailer starting on Sunday, October 3rd. Although it's not yet officially confirmed, you might as well mark your calendars now if you want to be one of the first on your block to show off the next relevant Android powered smartphone. Come to think about it, we're already heading into the last few days before it all goes down, so you'd better make some preparations now on how you'll get your hands on one.
T-Mobile G2 Specifications
source:
TmoNews