RIM unveils BlackBerry Tag: bump your phones to exchange data via NFC
10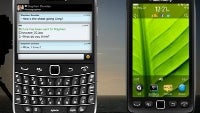 RIM's co-CEO Jim Balsillie has just announced
BlackBerry Tag
, a service which allows you to bump to 'Berries to exchange information. Now, you might have noticed that all the latest BlackBerries, including the
BlackBerry Bold 9900
and 9930 and
BlackBerry Curve 9350
, 9360 and 9370, all come with NFC pre-installed. That wasn't just some wishful futuristic thinking and now RIM is leveraging the chip for data exchanges in a Bump app style.
So what does BlackBerry Tag do? First and most obvious you
bump your phones to exchange
contact information, photos and other files, but it will also add the other party to your BBM list of contacts.
Best of all, RIM is promising to
open the BlackBerry Tag
API, so third-party developers can join in using the NFC functionality on the phones, which seems like a great field to innovate with ideas. Having NFC on the latest Berries serves as somewhat of a warranty that future devices will too have the chip installed.
When and how will
BlackBerry Tag be available
? The Canadian company promises to bring it along as a new BB OS 7 update rolls out, so shouldn't be too long of a wait.
BlackBerry Tag enables effortless 'tap to share' exchanges of multimedia content and contact info between friends
Friends can also add each other as BBM contacts with a simple 'tap'
DUBAI, UNITED ARAB EMIRATES--(Marketwire - Oct. 10, 2011) - GITEX – During his keynote presentation at the GITEX conference in Dubai, Research In Motion (NASDAQ:RIMM)(TSX:RIM) Co-CEO Jim Balsillie today unveiled a new way for BlackBerry® smartphone users to connect with one another and share multimedia content.
BlackBerry® Tag, which will be incorporated in the next BlackBerry® 7 OS update*, will allow users to share contact information, documents, URLs, photos and other multimedia content by simply tapping their BlackBerry smartphones together. BlackBerry Tag will also enable friends to instantly add one another as contacts on BBM™ (BlackBerry® Messenger).
"BlackBerry Tag is an exciting and innovative feature that makes sharing contact information and multimedia content effortless and seamless," said Jim Balsillie, Co-CEO at Research In Motion. "BlackBerry Tag opens a new dimension to the BlackBerry platform that is powerful, simple and intuitive and we think it will be welcomed by both users and developers."
BlackBerry Tag takes advantage of Near Field Communications (NFC) technology included in the recently launched BlackBerry® Bold™ 9900/9930 and BlackBerry® Curve™ 9350/9360/9370 smartphones, and these are the first BlackBerry smartphones that will support BlackBerry Tag.
RIM also announced plans to expose BlackBerry Tag through APIs on the BlackBerry platform, allowing software developers to take advantage of "tap to share" functionality from within their own applications.
* Subject to network operator certifications. Check with your local operator for availability.
About Research In Motion
Research In Motion (RIM), a global leader in wireless innovation, revolutionized the mobile industry with the introduction of the BlackBerry® solution in 1999. Today, BlackBerry products and services are used by millions of customers around the world to stay connected to the people and content that matter most throughout their day. Founded in 1984 and based in Waterloo, Ontario, RIM operates offices in North America, Europe, Asia Pacific and Latin America. RIM is listed on the NASDAQ Stock Market (NASDAQ:RIMM) and the Toronto Stock Exchange (TSX:RIM). For more information, visit www.rim.com or www.blackberry.com.
Forward-looking statements in this news release are made pursuant to the "safe harbor" provisions of the U.S. Private Securities Litigation Reform Act of 1995 and applicable Canadian securities laws. When used herein, words such as "expect", "anticipate", "estimate", "may", "will", "should", "intend," "believe", and similar expressions, are intended to identify forward-looking statements. Forward-looking statements are based on estimates and assumptions made by RIM in light of its experience and its perception of historical trends, current conditions and expected future developments, as well as other factors that RIM believes are appropriate in the circumstances. Many factors could cause RIM's actual results, performance or achievements to differ materially from those expressed or implied by the forward-looking statements, including those described in the "Risk Factors" section of RIM's Annual Information Form, which is included in its Annual Report on Form 40-F (copies of which filings may be obtained at www.sedar.com or www.sec.gov). These factors should be considered carefully, and readers should not place undue reliance on RIM's forward-looking statements. RIM has no intention and undertakes no obligation to update or revise any forward-looking statements, whether as a result of new information, future events or otherwise, except as required by law.
The BlackBerry and RIM families of related marks, images and symbols are the exclusive properties and trademarks of Research In Motion Limited. RIM, Research In Motion and BlackBerry are registered with the U.S. Patent and Trademark Office and may be pending or registered in other countries. All other brands, product names, company names, trademarks and service marks are the properties of their respective owners. RIM assumes no obligations or liability and makes no representation, warranty, endorsement or guarantee in relation to any aspect of any third party products or services.
Recommended Stories