RIM previews a major 2.0 update for the PlayBook OS, and a minor 7.1 to BlackBerry OS
1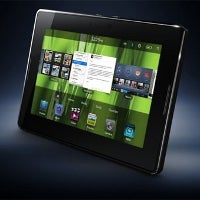 RIM device owners are not being left out in the cold at CES 2012. The company announced updates coming their way for both BlackBerry OS and PlayBook OS.
BlackBerry OS 7.1 now brings
hotspot functionality
to your phone (provided that your carrier is kosher with that, of course) for up to five devices, and also updates cornerstone app like BBM, plus the Traffic and Travel Apps. BBM users will now get BlackBerry Tag, allowing them to invite people to BBM by just tapping their NFC-enabled BlackBerry to another one with similar capabilities. Universal Search now intelligently filters Bing results while you type, and, finally,
BlackBerry Curve 9360
and
9380
owners get FM radio (yippee!).
The PlayBook OS 2.0 update is much more expansive, and brings so many enhancement to RIM's troubled first tablet effort, that it will surely make those who took advantage of the promo offers for the slate around the holidays, grin with delight. The email app update includes a unified with new management tools like searching across different accounts, multi-tasking within email, and rich-text email composing and editing.
The all-popular social networking integration within your contacts app is coming too, and the calendar is getting social vibes too, aggregating useful info for the contact you are meeting with from your social networks, or other means of communication with said contact. The updated BlackBerry Bridge software will now allow you to
remote control your PlayBook
via your BlackBerry smartphone, and vice versa - quickly open content from your phone like bookmarks or documents and other files, on the larger tablet screen for further work. This comes along with updated Documents To Go and Print To Go apps capabilities, plus increased device management functions for PlayBooks within a corporate environment.
The PlayBook OS 2.0 browser now includes new "reading view" mode, which gets rid of page clutter and makes reading easier on the eye and the brain. Finally, the update will include access to a new BlackBerry Video Storefront with access to buy or rent numerous movies and TV shows, only in US for now. For more details on the above features you can read the full press release below.
The big BlackBerry PlayBook OS 2.0 update will be available to all of RIM's tablet owners next month.
RIM Previews BlackBerry PlayBook OS 2.0 at CES
LAS VEGAS, NEVADA--(Marketwire - Jan. 9, 2012) - (CES 2012) - This week at the Consumer Electronics Show (CES), Research In Motion (RIM) (NASDAQ:RIMM)(TSX:RIM) will be previewing new features of BlackBerry® PlayBookTM OS 2.0 that will enable customers to stay even more connected and productive in their personal and professional lives.
"BlackBerry PlayBook is already recognized for delivering powerful performance, true multi-tasking, advanced web browsing and HD multimedia in an ultra-portable design," said Mike Lazaridis, President and Co-CEO at Research In Motion. "With BlackBerry PlayBook OS 2.0 we are building on this strong foundation, as well as leveraging our strengths in communications, social integration and productivity, to allow people to use their BlackBerry PlayBook in new ways throughout the day."
CES 2012 attendees who visit the BlackBerry booth at CES (South Hall 3 Booth # 30326) will get a sneak peek of upcoming BlackBerry PlayBook OS 2.0 functionality including:
Advanced Messaging Experience:
New unified inbox - a powerful unified inbox within the built-in messaging app allows users to quickly manage their personal email and work email accounts as well as the messaging capabilities of popular social networking sites like Twitter®, LinkedIn® and others - all in one place.
Multi-tasking within email - by extending the BlackBerry PlayBook tablet's multitasking capabilities to 'tabbed email', users are able to reference one email while they compose another.
Rich-text email composing and editing - new features within the Messages app enable users to benefit from full support of fonts, formatting and editing of email threads, offering a robust email experience similar to that of a PC or laptop.
Inbox management tools - allows for powerful inbox search across multiple email accounts, as well as the ability to set out-of-office messages and email signatures directly from their tablet.
Deep Integration of Social Relationships:
Innovative people-centric calendar - in addition to standard calendar features that help users plan and organize their day, the powerful built-in Calendar app provides the unique ability for users to view their calendar by who they are meeting with that day and review valuable information about that contact. Information is consolidated automatically from social networking sites about that contact and/or their company.
Relationship-centric contacts app - more than just an address book, the new built-in Contacts app serves as a social hub - merging and consolidating information from multiple sources (including email and social channels) into one contact file for each person in their address book. Each contact file includes information such as recent status updates, conversations, related news articles and mutual contacts that are kept up-to-date automatically.
Making Your BlackBerry Smartphone and Tablet a Powerful Pair:
Remote control for the BlackBerry PlayBook - new BlackBerry® BridgeTM features allow a user's BlackBerry® smartphone to act as a keyboard and mouse for their BlackBerry PlayBook - effectively providing a wireless remote control for their tablet. Perfect for pausing a movie when a BlackBerry PlayBook is plugged in to a TV with an HDMI connection, or for using the tactile QWERTY keyboard on a BlackBerry smartphone to compose a message or document on the BlackBerry PlayBook.
Opening content on the BlackBerry PlayBook - BlackBerry Bridge allows you to take documents, emails, multimedia files and web pages found on your smartphone and open them quickly and directly on the BlackBerry PlayBook so you can use the larger high resolution display for an optimized viewing and editing experience.
Improved Mobile Productivity:
Updated document editing capabilities - updated Documents To Go® functionality makes it easier for users to create and edit documents while on the go. Improvements include: enhanced support for the virtual keyboard, the ability to view and update embedded charts and chart sheets within spreadsheets, a new formula wizard with over 100 functions as well as the ability to edit presentations including text, bullets and formatting.
Print To Go application - this app allows users to wirelessly "print" from their laptop or PC directly to their BlackBerry PlayBook over Wi-Fi®. A digital printout is created on the BlackBerry PlayBook so that users can view, sort and manage their digital printouts as though they were physical sheets of paper. The Print To Go app is the perfect way to consolidate info from various related sources like a hotel web confirmation, an airline boarding pass email, the show event schedule or even a map of the destination city and make them available for quick access on the go.
Increased control and manageability of corporate data - the combination of BlackBerry PlayBook OS 2.0 with BlackBerry Mobile Fusion and BlackBerry Balance will help to overcome many barriers to widespread tablet deployment, including device manageability and the ability to secure, manage and control confidential corporate information on the device. Plus BlackBerry PlayBook OS 2.0 supports dedicated shelf space inside the BlackBerry App World storefront to allow IT departments to control distribution of enterprise applications and to make those approved enterprise applications easily available to the organization's end users.
New Apps and Content:
Your favorite apps plus thousands more - many exciting new applications built for the BlackBerry PlayBook will be made available on BlackBerry App World with the availability of BlackBerry PlayBook OS 2.0. From gaming and lifestyle to business and productivity, RIM is showcasing some of the latest apps available for the BlackBerry PlayBook at CES 2012 including Angry Birds, Cut the Rope, Groupon, Thomson Reuters, Zinio and many more.
Video store - a catalog of thousands of movies and TV shows will be available through the integrated BlackBerry Video Storefront* with new releases to be made available for purchase or rent the same day they come out on DVD. Users will be able to begin watching media as soon as they start to download the file, so users won't have to wait for the entire file to transfer before they can enjoy great entertainment on the tablet's high resolution display, or on an HDTV via the BlackBerry PlayBook tablet's HDMI output.
Enhanced web browsing - the BlackBerry PlayBook OS 2.0 browser also includes a new reading view, which is designed to make web sites even easier to enjoy by eliminating page clutter at the touch of a button. What's left is a cleaner format that is great for reading online news articles, blog posts, or websites that contain heavy amounts of text.
Availability
The BlackBerry® PlayBook OS 2.0 software update will be available as a free download for all BlackBerry PlayBook users and is expected to be available in February 2012.
BlackBerry Video Store will initially be available in the United States. Support for other countries is expected to be added later this year.