RIM co-CEO Jim Balsillie: "We'd be fools not to have NFC in the near-term", PlayBook to have "module cavity"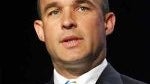 It seems NFC (Near Field Communication) is set to become a payment standard in the near future, since pretty much all the big manufacturers have said that they are planning to use this technology. The latest one to say it is RIM, as Jim Balsillie, the co-CEO of the Canadian company, commented at the Web 2.0 Summit that
"we'd be fools not to have NFS in the near-term, and we are not fools"
.
And while this is not a big surprise, given the fact that NFC is a much-talked about subject right now (for more information on the topic, check out our
in-depth article
), Jim Balsillie said something quite interesting about the
RIM PlayBook
. According to him, the PlayBook will have what he describes as
"module cavity"
. RIM's co-CEO suggested that it would add wireless capabilities to the Wi-Fi-only PlayBook, but that's all the available information on the topic. Of course, there is no way to know its full capabilities or how they will be used, so we will reserve our opinion until more information becomes available.
The PlayBook is scheduled for Q1 2011 release, but its carrier(s) are still unknown. It will use the new QNX OS and you can have a look at its browsing abilities
here
.
source:
Engadget
Recommended Stories