First look at the BlackBerry PlayBook browser against the iPad
12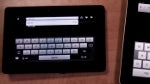 RIM has outed a comparison video to show how svelte the browser on its upcoming "professional-grade" tablet
BlackBerry PlayBook
is, compared to Safari, as found on the iPad.
The preview is, naturally, focused on Flash-heavy websites that the iPad is not able to display properly (or at all), which the PlayBook runs without many hiccups. The test also shows its Java and HTML5 rendering speeds, proving the 7" tablet's superiority in that department. We would be worried to directly compare a 7" tablet to something that is almost 3 inches bigger, but RIM obviously thinks it is a David vs Goliath scenario, where the little guy overcomes with ingenuity.
It is definitely worth watching, be it only to see the default keyboard in action (hint: there is a huge space bar in the middle). In the end, RIM clarifies that this is still a prototype, and the final results will be improved even further. Things are looking good, and with the
rumored competitive pricing
for the BlackBerry PlayBook, it might become one more thing for Apple to worry about. Or not.
What does everybody think, would you buy the PlayBook because of its superior browsing performance, or thousands of quality apps are more important for you?
source: RIM
Recommended Stories