RIM BlackBerry Pearl 9100 on the rise
This article contains unofficial information.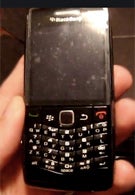 BlackBerry Pearl
is coming! There isn't much known about its characteristics, but as it seems the new Pearl 9100 will carry on the idea of its predecessor, adding 3G and a bunch of other features. Similarly to RIM's other new products, it will sacrifice the trackball for a trackpad. The guy from the video says it will run the new
BlackBerry 5.0
operating system, so hopefully users will get all the new features the manufacturer has developed software-wise. Anyways, we will leave you now to enjoy these cool pics and video. Viva la Pearl!
RIM BlackBerry Pearl 9100 Preliminary Specifications
source:
CrackBerry
and
Salomondrin