Quickoffice 4.0 for Android gets PowerPoint editing and text-to-speech
5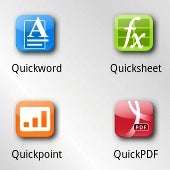 One of the best document editors on Android received its latest
4.0 update
, and the changelog is just what the doctor ordered.
It is now possible to
edit PowerPoint
files, not only view them, and you can have docs read to you with the new
text-to-speech
capability.
Just in time for the barrage of Android tablets to hit the shelves we'd add. Here's the full changelog for the free version, and for the $7.99 Quickoffice Pro:
Create, open, & edit PowerPoint® Files (.ppt & .pptx)
Clipboard access (cut/copy/paste in app and between apps)
Insert and resize images from gallery or camera
Text-to-speech document recital and voice input dictation
Edit and format table text in documents
Undo / redo most user actions
Thumbnail preview scrolling for multi-page documents
Improved toolbar and performance enhancements
Paragraph alignment in documents
Edit speaker notes in presentations
Share files from via e-mail, SMS, Bluetooth, and others
Support for advanced formulas more charts in Excel files
Edit in page layout mode and thumbnail page navigation in documents
Add, delete, and rename worksheets in Excel files
Apply formulas to multiple cells by tapping and dragging
Move & resize text boxes, images, and shapes
Install to SD card and save storage space on your device
Quickoffice Pro
Create, edit, and share Microsoft Word, Excel, and PowerPoint files
Get continuous and convenient mobile access to remote storage services
Access and manage email attachments with the most popular file formats
Experience advanced PDF viewing
Save files locally, on your remote storage provider, or to an SD card
Browse and open zip folders
100% data integrity - guaranteed Microsoft compatibility
Localized in English, French, German, Italian, Spanish, Korean, Brazilian Portuguese, Japanese, Simplified Chinese and Traditional Chinese
After it got updated for iOS, Android users can now take full advantage of the rich Microsoft Office docs management capabilities of Quickoffice, making it one of the most functional apps for Google's mobile OS in that respect.
source:
Quickoffice