Qualcomm's baseband chip dominance threatened by new JV uniting Samsung, NTT DoCoMo and three others
5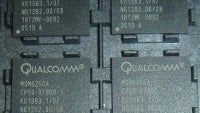 Qualcomm's has largely dominated the
mobile baseband chip space
with share reaching 80%, but now Japanese megacarrier NTT DoCoMo aims to threaten that monopoly by negotiating a new joint-venture over baseband chip manufacturing with Samsung. The new JV, if the negotiations turn out to be successful, will also include three other Japanese companies -
Fujitsu, NEC and Panasonic's mobile division
. Baseband chips control the wireless communication and signal.
Talks are reportedly currently in their final stages and the new partnership may be
formed as early as next year
.
The partnership will design, develop and then outsource chip production, while the actual chips will be used on devices from those companies. The leading party in the JV will be
DoCoMo
, which is expected to get a $390 million (30 billion won)
majority stake
. The company confirmed that it's looking for partnerships with many companies, but was rather vague on specifics about such JV with Samsung. Fujitsu and Samsung remained mum, but if this passes through as it might, Qualcomm might have to look out.