Qualcomm tries to calm fears, says 64-bit Snapdragon 810 is still "on track"
53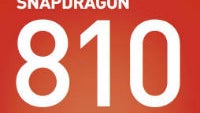 Qualcomm announced the 64-bit Snapdragon 810 all the way back in
April
and said that the chipset was planned for release in the first half of 2015. Last week, the
clock speeds
of the 810 were revealed; and, soon afterwards, it was rumored that both the Samsung Galaxy S6 and LG G4 could be
delayed
because of issues with the Qualcomm SoC. Now, Qualcomm is trying to calm fears, but it isn't doing so well.
Jon Carvill, Qualcomm's Senior Director of Public Relations responded to the rumors by saying, "I can tell you that everything with Snapdragon 810 remains on track and we expect commercial devices to be available in 1H 2015." You might notice a bit of a red flag with that statement: it has been almost exactly 8 months since Qualcomm announced the Snapdragon 810, but it still can't narrow down the release window beyond "1H 2015". Technically, that window means we could see Snapdragon 810 devices anywhere between next month and June; but, leaving the window that wide (especially this close to said window) tends to imply the release is towards the later end of the spectrum.
This may not cause a problem for the LG G4, which is still rumored for a mid-2015 release, but it would be trouble if Samsung is aiming for its usual spring release of the Galaxy S6. Either way, it is a bit disconcerting that Qualcomm can't narrow down the window for the Snapdragon 810, because we want to see some powerhouse 64-bit Android devices.