Qualcomm: 5 billion smartphones to be sold between 2012 and 2016
6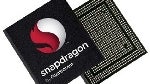 "Consumer expectations for connectivity, battery life and portability will drive Qualcomm's growth in the segment."-Qualcomm statement
Qualcomm has a unique position in today's smartphone industry thanks to the large number of devices that use the company's Snapdragon processor. Think about all of the recently launched high-end models carrying the
APQ8064
that allows for both quad-core processing and LTE processing. And we've pointed out many times how many mid-rangers are driven by the dual-core
MSM8960
processor.
As a public company, Qualcomm holds an annual meeting, well, annually. This year's meeting came with a prediction that
5 billion
(with a "b") smartphones will be sold between 2012 and 2016. That is a lot of handsets and if you lined them up from the earth to the moon, it would still be a lot of handsets.
The chip manufacturer added that mobile devices are changing the computing world and that Qualcomm is focused on connectivity, battery life and portability. The company sees 650 million tablets and laptops sold in 2016 alone and expects to see strong demand for LTE chips to be used in mobile computers as well as for tablets.
source:
PocketLint