Promotional material shows off Multimedia Desktop Dock for the Samsung Droid Charge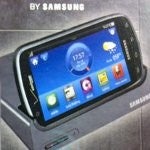 You can utterly smell the scent of the Samsung Droid Charge in the air
signaling that its eventual launch is hopefully nearing
, but you know that things are sure to move quickly when
promotional materials
starts to infiltrate Verizon Wireless locations.
Even though there's going to be plenty of face time available for the upcoming high end device, we find that there will be an available accessory that closely follows what's offered with the Motorola ATRIX 4G. Planted straight with the Samsung Droid Charge in the leaked promotion material is nothing more than a
Multimedia Desktop Dock
. Similar to the one for the Motorola ATRIX 4G, the dock makes for a descent pedestal stand for the handset, but adding to its arsenal is the ability change a spare battery simultaneously.
However, it's not clear from the material whether or not the dock will be able to output video to an HD television, but as always, this is increasingly something that's becoming standard for most high caliber smartphones on the market.
source:
Engadget