Verizon's Spring roadmap leak shows Samsung Droid Charge, Xperia PLAY coming in April
37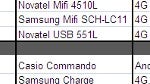 Verizon's ultra-fast 4G LTE networkmight be up and running, but there is only one handset making fulluse of those speeds. This, however, will change very soon as the 4GLTE-capable Samsung Droid Charge was leaked with an April 7th launch date. The LG Revolution will further revolutionalize the 4Gexperience when it arrives on May 5th and will be followedby the Motorola Droid Bionic, the Motorola Droid X 2 and the SamsungGalaxy S II later in May, all supporting the amazing LTE speeds, accordingto a leak on Phandroid.
The gaming-centered Sony EricssonXperia PLAY will hit shelves with the Verizon logo in mere twoweeks, but in the meantime feel free to check out our in-depth coverage of all of its gaming prowess.

In addition, the CDMA HTC Trophywill also arrive on Big Red on April 15, equipped with Windows Phone7. Finally, the HTC Incredible S, rebranded as the HTC Incredible 2, isexpected to bring joy to your senses with HTC Sense as soon as April 28th. With so many announcements, it looks like we're going to have a hot spring, doesn't it?

source: Phandroid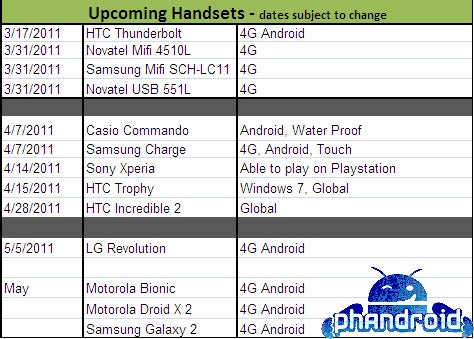 Recommended Stories