Projector-laden Samsung Galaxy Beam Android smartphone arrives in the U.S.
10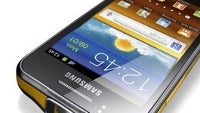 The
Samsung Galaxy Beam
is one of the most fascinating devices we've seen recently. And not for its screen, processor or camera, but for a completely different reason - it's got a neat 15-lumen pico projector built-in, allowing to beam your screen's contents to a 50-inch projection. Imagine the games you play and the videos you watch on your smartphone projected to that 50-inch screen. And now, the Galaxy Beam has finally arrived in the USA.
It doesn't have the support and subsidy of any of the major carriers, though, and it's sold unlocked with a slightly bigger initial price tag, but no contract ties and the full freedom of using your device as you wish.
And you'd better hurry up to get it. The Samsung Galaxy Beam is sold in very limited quantities on Amazon, and the price is set north of $480.
As for the technical details, the Galaxy Beam is a phone with a 4-inch WVGA LCD screen, 1GHz dual-core processor, 8GB of built-in storage and a 2,000mAh battery.