Privacy concerns over Dolphin Browser HD data handling
2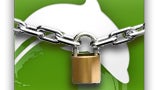 Dolphin Browser HD, a popular replacement browser for Android,recently came under fire over privacy concerns.First reported on the XDA-Developers forum, it turns out that the newWebzine feature introduced in the most recent version of Dolphin HD forwards theURL of visited webpages to Dolphin servers.
Dolphin has since elaborated on the situation on theirofficial blog. According to Dolphin,when the browser loads a URL it is forwarded to their servers so the addresscould be checked against a known database of websites with Webzinecapability. This allowed the "ToggleWebzine" feature to provide a quick switch from mobile websites toWebzine-enabled versions. Dolphin statedvia their blog that none of the data has ever been stored on their servers, andemphasized that user privacy and safety is a top priority for the company.
To allay immediate concerns Dolphin Browser HD has beenupdated with the Toggle Webzine feature disabled, which prevents URLs frombeing forwarded. Dolphin stated that thefeature will return in a future version of the browser, but only if users optin. Future versions will also provide amore transparent summary of the URL-checking process, so users can make aninformed decision before enabling the Toggle Webzine capability.
sources: XDA-Developers via Android Authority; Dolphin Browser Blog