Dolphin 6 not waiting for Flipboard, brings webzines to Android
7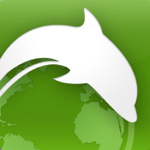 Depending on which side you're coming from, Android has certain (dis)advantages being that you have the choice of alternative browsers and keyboards... because the stock browser and keyboard aren't that impressive. The stock Android browser is fine if all you want is something light and fast, but for advanced features, it is a bit behind the competition. The biggest competition may be from Dolphin Browser, which you'll find at the top of most "best Android browser" lists on the Internet.
Dolphin Browser 6 keeps the base that users have come to expect with tabbed browsing, helpful sidebar shortcuts, speed dial, add-ons and even access to changing your UserAgent to see the web any way you want. With version 6, Dolphin now has gestures and Dolphin Webzine. Gestures are exactly what you'd expect, draw a gesture on the screen and it will launch a website. So, you might draw an F to get to Facebook, an E for ESPN, or a 4 for 4chan.
Webzines are growing in popularity, and this is the first to be built into a browser, so it seems like a good move by the Dolphin crew. Dolphin is feature packed, and free in the Android Market.
source:
Dolphin Blog
Android Market link