PowerDVD media player available now to Android OEMs, brings 2D-to-3D conversion and rich format support
5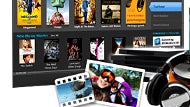 CyberLink's
PowerDVD
has long been one of the best media players out there on our home computers or laptops. The mobile operating systems were given the so-called PowerDVD Remote app so far, to control the desktop program from your smartphone.
Now CyberLink announced that it is bringing PowerDVD to the Android platform as a full-scale media player, with OEM availability at first, so as manufacturers can bundle it with their Android handsets. Given the rich video format support, including DivX/Xvid and
HD video in .MKV format
, we cross fingers that PowerDVD for Android appears in a device as soon as possible.
CyberLink has some more tricks up its sleeve for the Android app, though. The player offers enhanced DLNA capabilities for streaming multimedia to DLNA-enabled device like TVs or computers, and capturing videos or photos directly from your camera roll is also supported.
The last but not least features of PowerDVD for the green robot are
3D playback, as well as 2D-to-3D conversion
of photos and video on devices with the NVIDIA Tegra 2 chipset. Android is already great in regards of video playback format support, but the arrival of apps like PowerDVD are making it even better in that respect.
via
Pocket-Lint
Recommended Stories