Portable CardioCard Mobile EKG machine comes with an Android app
0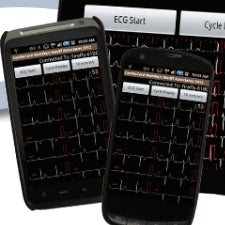 We did
an article a while ago about smartphones and tablets entering the world of medical apps and devices
, but at the time most of it was for iOS and especially the iPad, which every third doctor seemed to have been equipped with.
Android is slowly making inroads in the medical community as well, it seems, and, if this 12-lead CardioCard Mobile EKG machine is any indication, it is being taken now seriously by device manufacturers in particular.
The EKG station is portable, and uses Bluetooth to communicate with Android smartphones and tablets. The results are in the form of PDF files, so you can easily send them out to a heart specialist.
The CardioCard Mobile can do 12 lead interpretive acquisitions at once, with a sampling rate of 250 to 1000 Hz, and the interpretation classes include MLS, blocks, enlargements, axis, and afib with hospital level accuracy, or so the manufacturer promises. The price is $1895, which is not bad for saving the hospital visits, or in remote areas.