Pope lights up the world's largest Christmas tree with Android, Sony's product placement reaches new heights
12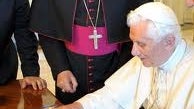 Say what you will about the fate of Sony's Android tablets, but the company surely knows how to make a product placement, as numerous movies can confirm.
This time a Sony Android tablet was given to the Pope Benedict XVI himself, for the holy task of lighting up the world's largest Christmas tree setup, which is located in Gubbio, Italy.
The tree consists of hundreds of trees growing on the slopes of Mount Ingino, decorated with miles of Christmas lighting. It spans on 130 000 meters square, with a giant comet on the top of the mountain taking a thousand of those in itself. From the press release:
The "tree", which is made up of an arrangement of coloured lights on the side of Mount Ingino, has been erected by volunteers every year since 1981. Its base is approximately 450 metres wide and it extends for 750 metres up the hillside from the city's mediaeval walls to the basilica of St. Ubaldo. The silhouette of the tree is marked with 300 green lights, and it covers a surface area of some 130,000 square meters illuminated with 400 multicoloured lights. At the top is a comet made up of 250 lights covering an area of 1,000 square metres.
The tree is illuminated every year on 7 December, during a traditional celebration attended by representatives of the world of culture, show business and politics. Benedict XVI will activate the illumination from his apartments in the Vatican Apostolic Palace. He will touch the screen of a Sony "Tablet" with an "Android" operating system which, via the Internet, will transmit the command to switch on the electric current to the tree.
The Vatican press release doesn't specify if it was a
Sony Tablet S
, but putting "Tablet" and "Android" in quotes smells Android rookie to us, we've seen the Pope play with an iPad before to send his first tweet.
source:
News.va
via
Pocket-lint