Poll results: Would you like Samsung to trim down TouchWiz UI?
39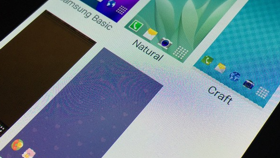 2015 is going to be a very important year for Samsung, as the company is trying to fend off competitors that are gaining ground in the smartphone race.
One of the things that could help Samsung - besides the new design language of the upcoming
Galaxy S6
- is a revamped UI. Samsung's TouchWiz has been often criticized for not being as light as other UIs, sometimes making powerful devices a bit sluggish.
Thankfully, it seems that Samsung is planning to seriously trim down TouchWiz. According to a report from last week, Samsung is looking to "get rid of unnecessary functions" and bring its UI to "the level of Google's Nexus 6" UI. Upon hearing this, we just had to ask our readers if they wanted Samsung to go ahead with this alleged plan, so we
ran a poll
to help us in this regard.
The poll results are pretty conclusive: 90.27% of those who voted (2662 users) want Samsung to trim down TouchWiz UI - though some are noting that maybe this should be done just a little bit. Only 9.73% (287 users) said that they'd rather not see TouchWiz being changed. Do these results surprise anyone?