Poll results: Which one of this year's 6-inchers would you buy?
30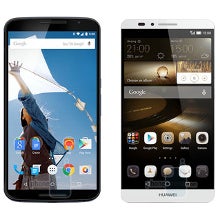 Given this abundant choice of 6-inchers that is currently on the market, from all specs and price points, on one hand, and the brand new entrant in the category - the venerable
Nexus 6
- we asked you last week which one would you get, if in the market for a big-screen device, which seems to be the fastest growing market segment right now.
Granted, the Nexus 6 won't be for everybody, unlike previous Nexus iterations, as it's still a gigantic handset that has to be operated with two hands the vast majority of the time, but if you are eyeing a 6-incher, you already knew that, didn't you? This is why we are curious to learn which one of the popular 6" phablets that have been unveiled this year would you get if you had the chance.
It turns out that of the 2299 respondents, about 65% are actually digging the huge Nexus 6 phablet, and intend on scooping one, at least on paper. The next favorite is Huawei's premium
Mate7
, which is not only more compact than the Nexus 6, but with a pretty aluminum unibody as well. With a bit more than 9% of the votes the third place goes for the excellent
Lenovo Vibe Z2 Pro
, while the midrange 6-inchers don't get much love at all.