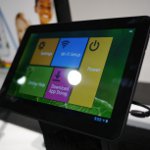 In addition to their
7-inch Android tablet in the M7
, Polaroid has a fuller offering in the
M10
. As its name quite happens to imply, it's sporting a larger
10.1-inch 1280 x 800 IPS display
that's good enough to use for most things, but not a contender to the Nexus 10's throne. Design-wise, it tries to sprinkle a shaving of premium, but it doesn't take us long to know that it's sporting a plastic body that's emulating the look of a metal one. So yeah, the design is hardly a head turner in this day and age.
Powering this fuller offering is a
quad-core Cortex A7 processor
with 1GB of RAM, which seems sufficient enough to handle most processes with relative ease. Strangely, it's running Android 4.1 Jelly Bean, but it looks more like an ICS device instead. Rounding things out, it's a well-rounded item since it features a 5-megapixel rear camera, 2-megapixel front-facing camera, HD video recording, SIM slot, microSD slot, microHDMI out port, and a 3.5mm headset jack.
Just like its sibling, though, it's not a "
with Google
" device, which means you're not getting the full experience of what Google has to offer. Regardless, some might be tempted by its drool worthy cost of
$229
! Needless to say, you're getting a whole bang with this one, but it'll depend on whether or not you can tolerate using alternatives to the staple of Google apps that Android typically provides.