Pokemon GO Halloween event kicks off on October 17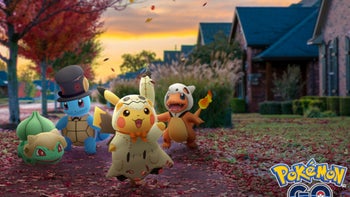 Niantic has just
revealed
the Pokemon GO Halloween event, which will begin on October 17 and run through November 1. During the event, Pokemon GO players will receive a handful of bonuses, avatar items and a chance to catch rare Pokemon.
So, starting October 17, players will be able to rescue more Shadow Pokemon from Team GO Rocket. The following Pokemon will be available at PokeStops near you: Weedle, Kakuna, Beedrill, Electabuzz, Magmar, Lapras, Mareep, Seedot, Nuzleaf, Sableye, Trapinch, Cacnea, Shippet, and Duskull.
New dreadful avatar items will be available in the Style Shop, including Zubat Bag, Pikachu Onesie, Cubone cap, Litwick Cap, and Mimikyu Bag. Also, if you're lucky enough, you might encounter Shiny Yamask.
But that's not all, as Niantic announced that more Ghost- and Dark-type Pokemon will appear in the wild, in Eggs, and in raids, including Gastly and Murkrow. In addition, Yamask, the Spirit Pokemon will make its Halloween debut.
To make things even more fun, Pokemon wearing Halloween costumes will appear in raids and in the wild. Don't be surprised to encounter Bulbasaur wearing Shedinja costumes, Charmander wearing Cubone costumes, and Squirtle wearing Yamask costumes in raids. On the other hand, you'll find Pikachu wearing Mimikyu costumes in the wild.
Other Halloween-related activities include some fun Field Research tasks, which will be available for a limited time, and the ominous Darkrai that will appear in five-star raids. Finally, once the Halloween events start later this week, players should check their Special Research for a chance to face a Forbidden Pokemon.
As far as the bonuses go, Niantic announced that throughout the entire Halloween event, players will receive the following bonuses: 2x Catch Candy, 2x Hatch Candy, and 2x Transfer Candy.